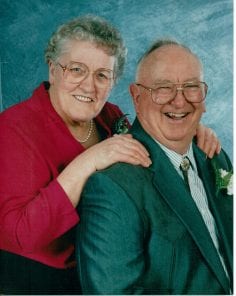 Mr. William (Bill) Reid and his wife Ruby were married for 64 years and they lived most of their life together on their ranch in the Black Creek Valley in the Cariboo. They were blessed daily by the beauty of their valley and the surrounding Cariboo Mountains. They enjoyed the precious gift that living in the wilderness offered them; the gift of a deep love and respect for all animals.
Animals were an important part of their lifestyle. Bill and Ruby loved their farm animals, the wild animals at their doorstep, and they particularly loved the companionship of their cats and dogs.
When Bill retired in his sixties, he and Ruby moved to Williams Lake, BC. They were a truly altruistic couple. They gave their energy unconditionally to non-profit organizations in Williams Lake, in BC and in Canada but, without a doubt, their favorite organization was the BC SPCA.
They walked daily and one year they made it a goal to save all found change from their outings to donate to the SPCA. That year they found and saved $432.17 which they were proud to give to the SPCA. Bill often told this story and he'd chuckle and conclude "Ruby can spot a dime on the sidewalk from half a block away".
When they planned their wills, they agreed that a gift to the BC SPCA was the best way to continue to spread the love.