April 4, 1940 – July 9, 2017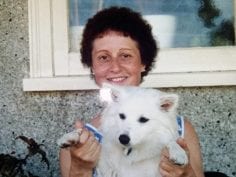 Marlies Hering was born in Berlin, Germany and immigrated to Canada in 1962 with husband Gunter and son Thomas.
They lived first in Richmond,  then Aldergrove, and finally in Salmon Arm with her sister Karin close by.
They loved animals and always donated to the SPCA.  Marlies had a cat named Suzie for 15 years and a dog named Fifi (pictured with Marlies) for 6 years.  She loved to travel and play in the casinos.
Marlies was a very independent woman after her husband passed away in 1993.  She will be in her family's hearts forever and the BC SPCA is grateful to her for her support of the Shuswap Branch.
Auf Wiedersehen Mom.