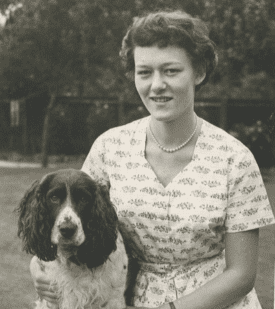 November 9, 1930 – February 10, 2021
Mary loved all animals and had a menagerie that she took in over the years. She had her own dogs and rescued several more. But she didn't stop at dogs: she also took in cats, birds, rabbits, gerbils, hamsters, and more.
Her dogs were varied: yellow labs, German shepherds, a border collie, cocker spaniels and some mixes.
At one point she had 3 dogs and a cat and a bird, as well as her 8 grandchildren trouping through her home. Despite the crowd, the family had to give up the couch to the dogs when they wanted to lie down.
She walked the dogs everyday at Jericho Beach or the Endowment lands, where, at the time, they were allowed to run free. When she could no longer walk the dogs herself, she hired dog walkers to come and give them proper exercise. She loved all these animals and kept them healthy, loved, and comfortable until they reached their end of their own lives. Other dogs in the family loved her without reservation and recognized her need to be with an animal during her struggle with dementia. She always remembered the dogs in the extended family and loved it when they came to visit.
Mary spent her 90 years surrounded by animals. Thank you, Mary, for leaving a loving gift to them in your Will.