The BC SPCA is the only animal welfare organization in B.C. with the authority to enforce animal cruelty laws under the Prevention of Cruelty to Animals Act (PCA Act).
Report incident of animal in distress
To report an animal in distress, please call the BC SPCA Provincial Call Centre: 1-855-622-7722.
For wildlife: 8:00 a.m. to 6:00 p.m., seven days per week.
For domestic animals or farm animals: 9:00 a.m. to 6:00 p.m., seven days per week. Closed on Statutory holidays.
If this is an animal emergency outside of these hours, please contact your local police department , RCMP or the Conservation Officer Service (RAPP).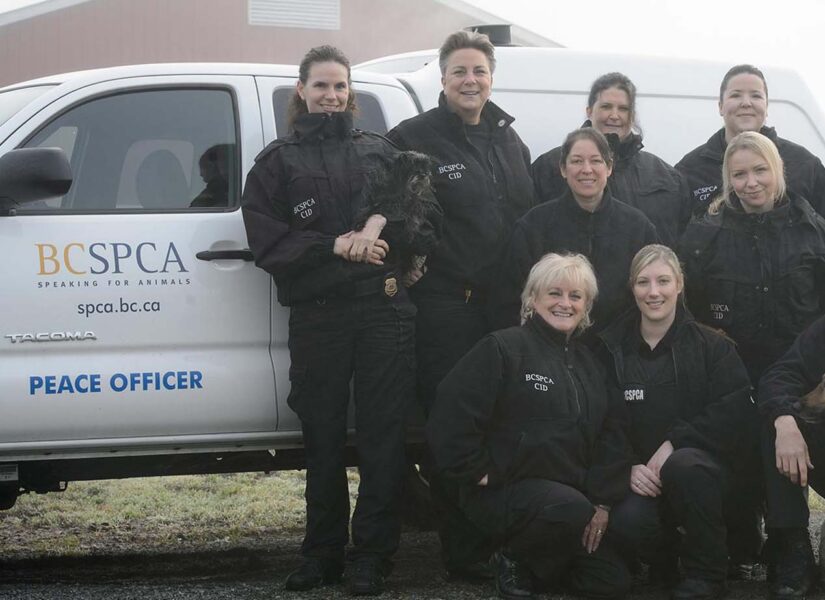 Cruelty investigations team
The Cruelty Investigations Department investigates all reports of cruelty against animals in B.C. and takes the necessary steps to alleviate their distress.
Every year, the department investigates thousands of complaints of cruelty and neglect and conducts more than 9,500 animal cruelty investigations. Our 30 full-time Special Provincial Constables are trained to carry out these investigations, care for animals in distress and recommend charges to Crown Counsel for the prosecution of those who inflict suffering on animals.
The department also works to decrease the likelihood of repeated abuse through education, cooperation, and if necessary, deterrence in the form of legal proceedings.
2019 Legal proceedings
Convictions:
PAT, Willard Peter, BC SPCA File # 267004 – PCA Act 24 (1) Causing an animal to continue to be in distress, Hope, B.C. Offence Date: December 20, 2017.
Order: May 13, 2019. Suspended Sentence; Probation Order: 1 year. "Prohibited from owning, having custody of , having control of, or residing in the same premises as an animal during the period of this order
Canine: Mastiff type, male, emaciated Body Condition Score 1 out of 9. The Mastiff type dog named "Handsome "was chained to a tree in frigid temperatures, without adequate food/water/shelter. Dental fractures and pressure sores. The Dog was seized by SPCA Constables made a full recovery and was subsequently rehomed.
VAN ALLEN, Margot, BC SPCA File #259995 – PCA Act PCA Act Section 9.1 (2)  A person responsible for an animal must not cause or permit the animal to be, or to continue to be in distress. Vancouver, B.C. Offence Date:  August 9, 2017,
Order: May 15, 2019. Guilty plea, fine $3,000, ($1,000 per horse). Prohibited for two years from owning animals – with the exception of up to four horses and to provide an annual veterinary report to the BC SPCA Cruelty Investigations Department.
Equines: Three (3) Lipizzaner type horses, overweight, (body condition score 9 out of 9) presented with pressure sores, difficulty walking, chronic laminitis, (prolapse of the solar corium – soft tissue of the hoof, through the sole surface, indicative of significant rotation or sinking of the coffin bone) the horses met the definition of being in "critical distress" pursuant to the Prevention of Cruelty to Animals Act and subsequently euthanized.
Approved charges:
BRUYERE, Olivia (Mission) File # 281926 – 1 Poodle died -blunt force trauma. Offence date September 17, 2018.
CLENDENNING, Michael (Chilliwack) File # 266253 – 24 Cats, 18 Rabbits, 9 dogs, 93 dead animals exhumed. Offence date March 7, 2018.
MINIONS, Rober and TSIN-MINIONS, Neddy (North Vancouver) File # 242597 – Breeder, 40 dogs seized. Offence date November 24, 2016.
MORIARTY, Philip (Richmond) BC Canine Training Centre/Boarding File # 246680 – owner left his Great Dane for training and boarding returned to find his dog thin, muscle wasting. Offence date January 2017.
PARKER, Elizabeth (Sunshine Coast) File # 233072 – 18 cats, 2 horses seized Offence date January 11, 2017.
VIITRE, Tarmo (Vancouver) File # 225838 – Physical abuse. Offence date May 8, 2016.
ZHAO, Ji Feng. (Langley) File # 269013 – 3 dogs, 1 goat and 1 calf in distress – Offence date February 14, 2018.
Your donations make a difference
The BC SPCA does not receive any provincial funding to assist with animal cruelty investigations.
An investigation can cost more than $10,000 on average to bring one case of cruelty to Crown Counsel for prosecution. To that end, we spend approximately $2.5 million per year.
We rely on generous gifts from our supporters to help us ensure that we can continue to help animals in need and end animal cruelty in B.C.
To receive monthly information about BC SPCA programs and cruelty investigations, sign up for our news alert.