Join the BC SPCA Kids Club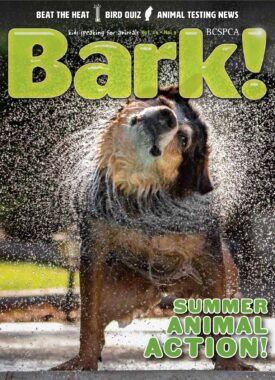 Get your very own animal magazine mailed right to your door! When you sign up for the Kids Club, you'll get Bark! magazine four times a year.
But that's not all! You'll also be sent a welcome package that includes:
A membership card
A Kids Club collector pin
Past issues of Bark!
An animal activity booklet
A special animal poster
As a Kids Club member, you'll be the first to know about upcoming events like summer camps and workshops. Plus, you'll have access to exclusive Kids Club contests with chances to win great prizes.
Want to check out Bark! magazine before you join the club? Read some past issues!
Summer 2023 (PDF)
Spring 2023 (PDF)
Winter 2023 (PDF)
Fall 2022 (PDF)
---
Camps and workshops
Throughout the year, youth are invited to join us for workshops, mini-camps, spring break and summer camps at select locations. In-person and virtual programs may be available.
Visit our Youth Events page to learn more!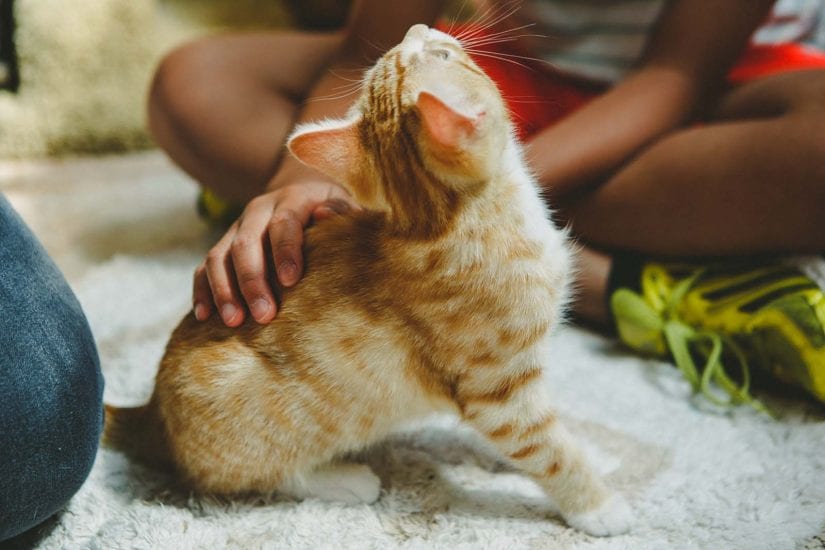 ---
Learn at Home
The BC SPCA is pleased to share some of our favourite activities for animal-loving kids to do at home! Our activities are designed for fun and learning, and most include a link to additional materials from Bark! magazine where you can learn more about animals and the environment.
Check out BC SPCA Learn at Home!
---
Get e-Kids Mews!letters
Can't wait for your next issue of Bark! to arrive? Sign up for e-Kids, our monthly email newsletter. That way, you'll still be learning all about animals in between issues of Bark!.
e-Kids has something for everyone! Fun facts, jokes and riddles, recipes, contests, games, puzzles, crafts and oodles of adorable animals.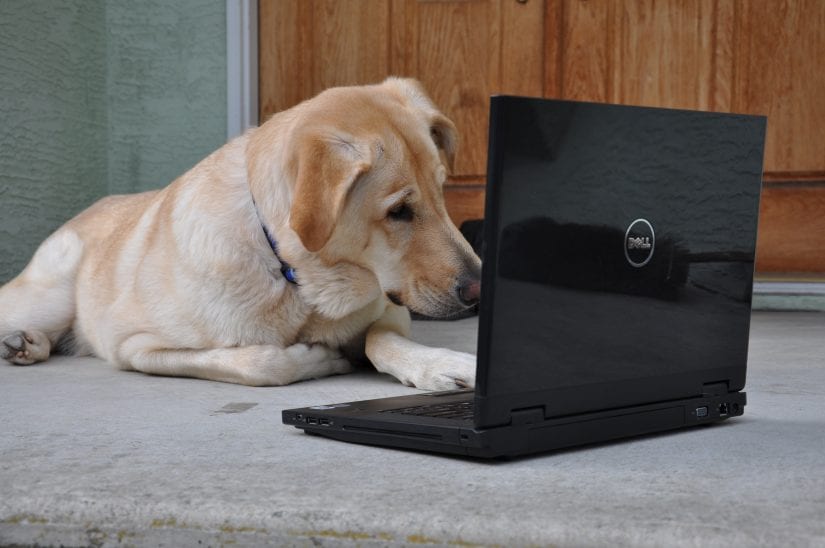 ---
Learn about pet care
Getting a pet is beyond exciting! Are you ready?
Find out what you'll need to know to take great care of your dog, cat, rodent or rabbit. Check out our pet care guides:
Dog care guide (PDF)
Cat care guide (PDF)
Rat care guide (PDF)
Gerbil care guide (PDF)
Mouse care guide (PDF)
Rabbit care guide (PDF)
Guinea pig care guide (PDF)
Hamster care guide (PDF)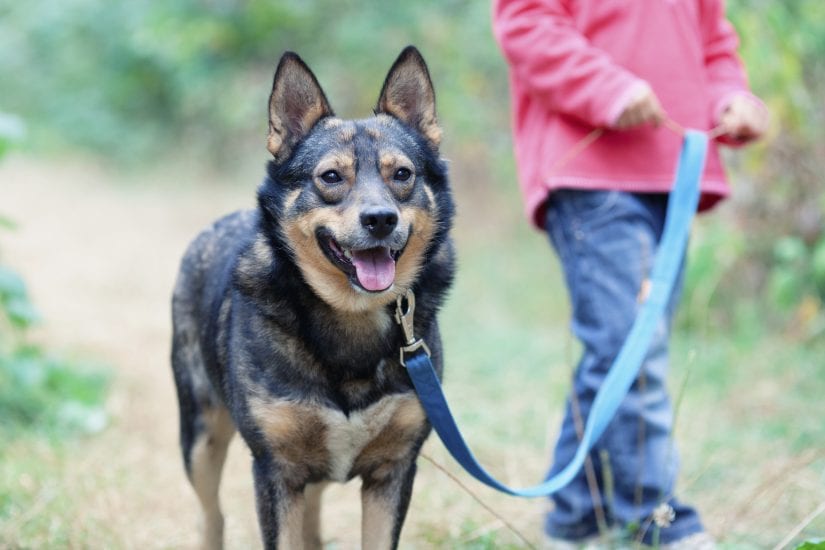 ---
Start a school club
Do you have friends who love animals just as much as you do? Get together and start a neighbourhood or school animal club!
Our free school club manual (PDF) is packed with ideas, activities and projects you can do as a group. Don't forget to register your club (PDF) with us and we'll send you a welcome package to help get you going!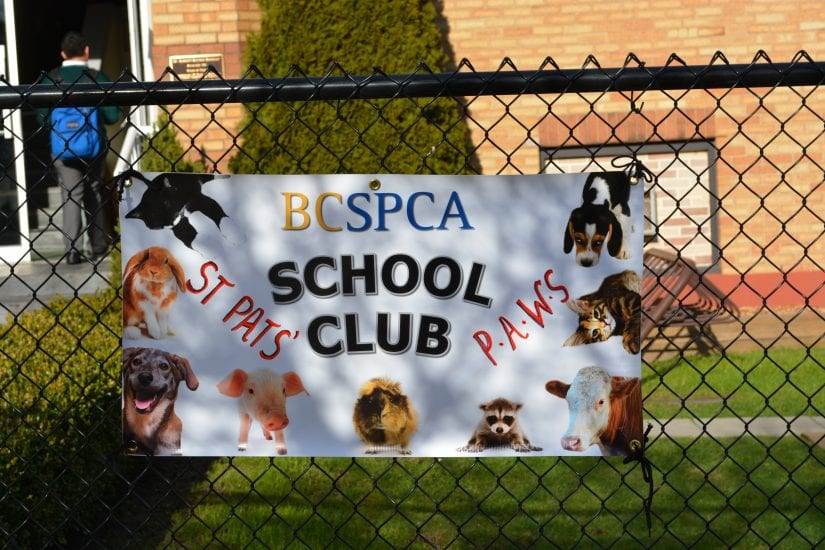 ---
What about volunteering?
Just to let you know, you have to be at least 16 years old to volunteer with the animals — for safety reasons. Animals come to our shelters from all different backgrounds. Not all of them are comfortable around young people. We don't want to put them — or you! — at risk.
Some of our smaller shelters have programs for junior volunteers. Usually, an adult has to be with you at all times. The best way to find out about volunteering opportunities is to contact your local shelter directly.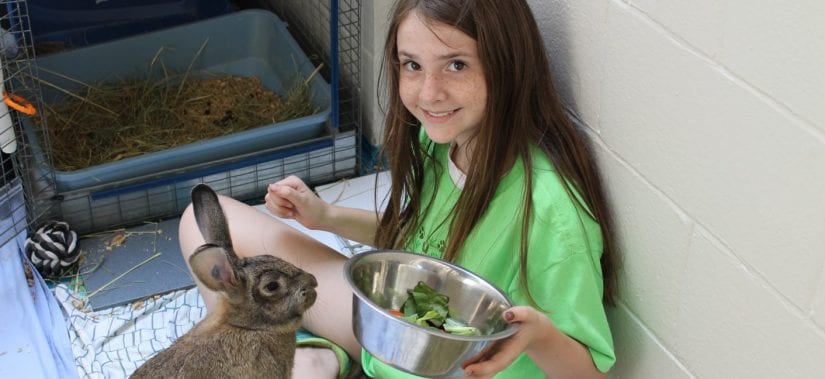 Photo by Linda Mackie
---
Helping animals in other ways
If you're not quite old enough to volunteer with the animals, why not consider fostering?
Fostering involves your whole family. Together, you help an animal, such as a cat and her newborn kittens, get ready for adoption. Fostering is a very important way to help our shelters free up space to take in more animals.
Looking for other ways you could help animals in your community? Here are a few ideas:
Get some friends together and organize a dog wash.
Arrange to walk your neighbour's dog.
Offer to pet sit for a friend or family member.
Collect old towels and blankets for the animals at your local shelter.
All of these are great opportunities to help out and get to know animals and how to care for them.