---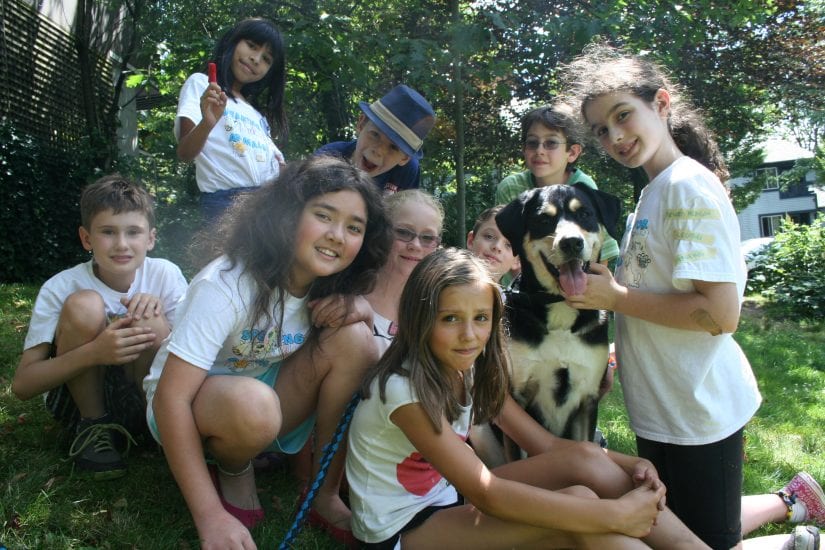 ---
Summer camps
BC SPCA summer camps are back and better than ever! All-new games and activities combined with classic favourites will make for a camp experience to remember!
In-person camps:
For 2022, we are excited to make a limited return to in-person camps at several BC SPCA locations. Click on your desired location to view the full summer schedule and to register: Kamloops, Kelowna, Maple Ridge, Nanaimo, Surrey, Vancouver, and West Kootenay (Castlegar).
Virtual camps:
Kids and teens across B.C. (and beyond!) can also join us for an engaging array of virtual programs. Dive deep into important animal issues, digitally tour a BC SPCA shelter, learn from animal experts, meet new furry friends and connect with other animal-loving youth from all around the province. View our full virtual program schedule and register.
---
Financial assistance
If your child is interested in attending our programs, but cost may be a barrier, we welcome you to complete our online application for financial assistance. We have a limited number of bursaries available. Please contact us if you have any questions, or if you would like a downloadable version of the application.
---
COVID-19
The safety of children, BC SPCA staff, volunteers and animals is our top priority. All in-person summer camps will operate under a COVID-19 safety plan, developed to reflect current public health guidelines.
View our BC SPCA Summer Camp 2022_COVID-19 safety guidelines.
Please do not hesitate to contact our camp team with questions.
---
Refund policy
In-person event refund policy: A full refund will be issued with four full weeks' notice of cancellation. Refunds will be prorated for fewer than four weeks' notice. Exceptions will be made for medical/family emergencies and will be handled on a case-by-case basis. Please abide by the age range set for campers. Campers registered outside of the age range may not qualify for a refund.
Virtual youth events refund policy: A full refund will be issued with seven full days' notice of cancellation. Refunds will not be issued if registration is cancelled within fewer than seven days of a program's start date.
---
Junior volunteers
Unfortunately we will not be able to host junior counsellor volunteers at our in-person camps this year. We are so thankful for our youth volunteers, and we hope that circumstances will allow us to welcome them back in 2023!
While we will miss having our junior counsellors at camp this year, we will soon be sharing information about an exciting Virtual Youth Content Creator opportunity. Please email our camp team if you would like to be notified when this information becomes available.
---
Educational support
In order for us to provide a safe, inclusive and supportive environment, we ask you to provide any information that will help us make our camps a great experience for your child.
If your child requires assistance at school, please contact our Humane Education department so we can discuss how best to support them. If your child requires more one-on-one support, we may ask for an aid with a Criminal Record Check to attend the event with your child to ensure they are supported.
---
Frequently asked questions
How can I be added to the waitlist for a camp that is full?
Please email our camp team with your child's name, birth date (including year), desired camp location and date(s) of camp.
How can I pay for camp?
We are able to accept payment through our online registration system by Visa or Mastercard. Unfortunately we are not able to accept credit/debit cards at this time. If you wish to pay by cheque, please contact our camp team at 604-709-4679 to complete your registration and to make arrangements for payment.
Can I enroll in more than one week of camp?
Registration is limited to one week of in-person camp per child. Our camps follow similar schedules each week, so attending more than one week may be repetitive for your child. We welcome campers to join us for as many of our virtual summer camp programs as they would like!
What does my child need to bring to camp? Is lunch provided?
A week before the beginning of your child's event, we will email you a list of what to bring to camp. You will not need to purchase any special supplies. Lunch is not provided so your child will need to bring a nut-free snack, lunch and water bottle.
What does a day of camp look like?
A typical day at BC SPCA summer camp is packed with fun animal-themed games, activities and crafts. Campers will also hear from special animal expert guest speakers and will spend time with select animals from our shelters. Campers will not interact with dogs in the shelter.
My child has a friend attending camp; can you put them together?
All campers participate together in activities. There will be unstructured time (lunch, pick-up, drop-off) when kids can socialize with existing and new friends. Our camps are inclusive spaces that welcome everyone.
---
Questions?
Our camp admin team is here to help! Please email camp@spca.bc.ca or call us toll-free:  1-855-622-7722 ext. 117 (604-709-4679) with any questions, and we will respond as quickly as possible. Admin support is available Monday through Friday.
---
Sign up to be notified
If you would like to receive email notifications about upcoming youth events in your area, please fill out the form below and submit it. Please note that completing this form does not register your child for any BC SPCA event.
---