The BC SPCA makes learning about animals fun! We offer youth workshops, summer day camps and special youth events.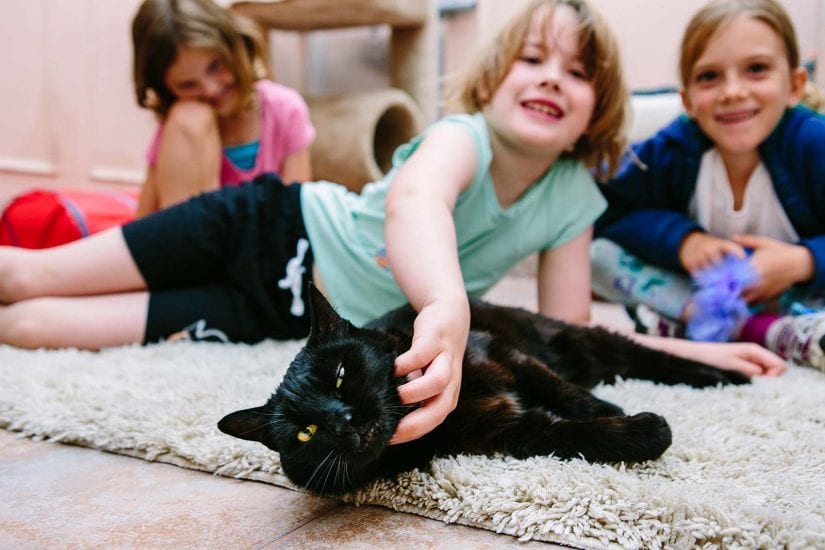 Fall Youth Events
Here's what's coming up at the BC SPCA for kids this fall! For full details on each event, please continue scrolling.
Afterschool workshops: Tillicum Elementary (Victoria)
Pet care workshops: Maple Ridge
Victoria: Tillicum Elementary afterschool program
Calling all grades 2 and 3 students of Tillicum Elementary! We are offering two series of special afterschool pet workshops:
Series 1: September 30, October 7, 21 and 28
Series 2: November 18, 25, December 2 and 9
These workshops will run from 2:45 to 4:45 p.m. at Tillicum school. Participants will learn about what pets need to lead happy and healthy lives, in a fun and interactive environment.
The total cost for all four sessions is $20.
Questions? Please contact Olivia Bancroft. Stay tuned for for further program date announcements after the winter break!
Maple Ridge: Pet care workshops
Kids (born 2009-2012) are invited to join the Maple Ridge SPCA for two engaging pet care workshops this fall! Participants will learn about what pet dogs and cats need in order to live happy and healthy lives, why different animals behave how they do, and how to interact with animals in a safe and respectful manner.
The first workshop will be held on November 17 and will focus on dogs. The second workshop will be held on November 24 and will focus on cats. Both sessions will run from 1:30 to 3:30 p.m.
Kids are welcome to register for one or both workshops. The cost of each session is $25.
Please contact Allison Simpson with any questions.
Just a note about:
Time spent with animals
We do our best to provide some hands-on time with animals — though we know that kids always want more! Sometimes, animal time is limited because we must be cognizant of the stress levels and health of the animals and of the fact that the shelter is a working adoption facility.
When possible, we do bring shelter-approved animals into the education space and allow kids to interact with them in small numbers. We also take kids on a shelter tour to introduce them to the animals and share their stories. For safety and insurance reasons, however, kids will not be interacting with shelter dogs.
Educational assistance
Our workshops are education-based and, as such, some reading and writing are incorporated into our activities. If your child requires assistance at school for academic or behavioural support, please contact our Humane Education department so we can discuss how best to support them.
If your child requires more one-on-one support, due to limited staff, we may ask for an aid with a criminal record check to attend the workshop with your child to ensure they are supported.
Sign up to be notified
If you would like to receive email notifications about future youth events in your area, please fill out the form below and submit it. Please note that completing this form does not register your child for any BC SPCA event.