May 6, 1943 – July 14, 2017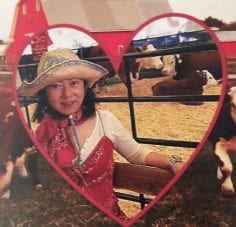 Cecilia was born in Hong Kong and moved to Vancouver in 1984, where she discovered her connection to nature and her love of cows. Living a happy and healthy life, she only chose organic products which treat farm animals ethically, endorsed by the SPCA.  As a true "Bull-girl", she visited many farms weekly, bringing her sense of joy to her visits with the cows. Needless to say, she collected many Bovine things – paintings, sculptures, and decorations.
Cecilia's loving heart and youthfulness lives on  in her family's memories and hearts. She wished to inspire others to laugh, be grateful, smell the roses, love one another and ourselves, and of course, love the animals.  We are grateful for her zest for life and her generous final gift to support farm animals in the care of the  BC SPCA.