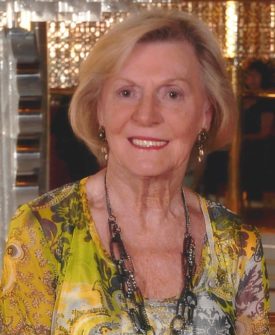 APRIL 18, 1920 – NOVEMBER 14, 2018
Doris Lunn (nee Dunkle) was born in Castor, Alberta. Her mother was born in the Ukraine and her father was a farmer, born in Austria. They immigrated to Canada to escape the Russian Revolution of 1917, settling first in Calgary and then in Castor, Alberta. The Dunkles had 5 children – 1 boy and 4 girls. Their only son died in a flu epidemic. The 4 sisters – Ella, Doris, Maurie and Irene moved to Vancouver with their parents, eventually settling in Vancouver's Kitsilano district. All the sisters were active in sports, playing tennis and softball. Doris' dream was to be a ballerina and dance with the Novikov Ballet School. In her youth, she attended Henry Hudson Elementary School and Kits Secondary High School. After Grade 10 she enrolled at Pitman Business College and began her business education.
Doris was an individualist with a wonderful free spirit. From the time she was sixteen and had her first jobs, she knew that she wanted to be a working woman in what was indisputably a man's world. She loved numbers and was a meticulous bookkeeper. She became Assistant Accountant and Office Manager at Crown Cartage and Warehousing and then Straits Towing, moving to BC Marine Shipbuilders where she worked for 30 years. She retired at 67.
Doris was an amazing woman who made her loved ones stop and look at life a little differently. She was an independent and thoughtful thinker, who was unlikely to change opinions when she made up her mind.
She met her husband Jimmy at a dance party in 1941, and they married at the Church 3 years later, moving in to a suite at her parents' home. When a group of friends started settling on the North Shore, Jimmy and Doris moved to West Vancouver and built a little bungalow with a swimming pool on a big lot. More friends followed, and they all joined the new North Shore Winter Club. Together they played tennis, started curling and took up golf. They partied and danced and became lifelong friends. Doris and Jimmy's 4 miniature black poodles Sammy, Cindy, Spook and Jazz were their children. Jimmy passed away in 1982 after a long battle with cancer.
Doris had two surgeries after a car accident, but it never slowed her down. She loved to garden, travel and play bridge. She took many trips to Europe, Asia and Hawaii. She was an Opera buff. She curled until she was 80 and golfed until she was 90, and even after that continued to keep playing bridge with her friends.
Doris had a strong network of family and friends who loved her unconditionally. Her mind was sharp, and she inspired them. Doris believed that the aches and pains of aging were outweighed by the benefits of getting old. She'd seen it all, lived it all, felt it all and loved to share with people the personal insight that comes with decades of experience. But though Doris loved to reflect on the years gone by, she lived in the present, and looked forward to the future, however short she expected it to be. She loved to share wisdom and offer advice.
In her old age, Doris embraced technology, but maintained her self-determination and independence. She insisted in having a say in how she wanted to live and how she wanted to see out her days. Doris had a wonderful quality of life and she grew old gracefully. She used the lessons she'd learned in life to make a difference in others'.
Doris, you have left your family and friends in BC, Alberta and California an incredible legacy of love and respect. You have touched so many lives and will live in their hearts forever!