June 9, 1951 – May 3, 2019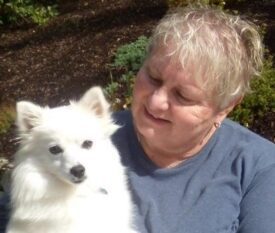 Helen Carolyn Klassen (Carly) left us suddenly on May 3, 2019.
Raised on her family farm in southern Manitoba, Carly's love for animals started at a very early age. In 1958, her family moved into Winnipeg, where Carly attended school. In 1972, she travelled to Australia for a year, where she worked her way around the country. While experiencing a new culture, Carly was also exposed to a whole new variety of animals.
Carly moved to Edmonton in the 80's to study Special Education. Her first teaching job was in northern Alberta, and a few years later, she moved to Williams Lake. Here she taught elementary, middle, and high school, and also achieved her Masters in Special Education. In the last years of her career, Carly taught at the Youth at Nenqayni Wellness Center, where her beloved dog Chiclet formed an integral part of her teaching curriculum.
Through much of her life, Carly's special pets were her companions – and the devotion between pets and owner was mutual. Carly always had at least 2 pets to keep her company – a cat and a dog. She enjoyed watching them caper as they frolicked with the deer in her backyard. Her pets kept her active for many years. There was no subject closer to her heart than the antics of her pets.
At 67 years of age, Carly left many friends and family who loved her great sense of humour, quick thinking, and independent spirit. One of her main concerns was that her beloved cat Gem and dog Shimmer would go to loving homes – which they did! She is greatly missed by all who knew and loved her. Thank you so much to Carly for providing for thousands of animals by leaving a gift to them in her will.