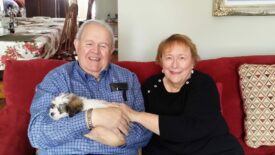 Carol Nelson (Nov 7, 1947 – June 21, 2021)
Albert Nelson (July 8, 1946 – May 14, 2022)
Carol and Albert Nelson were born, raised, and lived most of their lives in the Trail B.C.area. As a child, Albert grew up with a dog – and they were inseparable. When Carol and Albert met, they both needed a dog in their life, and that's when they met Mitzy. Mitzy was a Bichon Frise and was as cute they come. Mitzy ruled the house inside and out. Though Mitzy was special to them, all animals were important. Carol and Albert always had treats in their pockets for any animal they'd run into during the day. Whenever someone visited their house with their own dog, the dog would get the attention, and the treats, and the people would just have to wait, as animals always took priority.
Animals always migrated to Carol and Albert, not just for the treats, but for the undivided attention and love that they would share. As Albert would say "a little tickle here and a little tickle there is what they need." Albert and Carol shared their love for the animals with donations to many pet organizations. The BC SPCA was a favourite as they felt the majority of the money went to the pets and the care that they needed. The BC SPCA was important to Carol and Albert as they felt animals truly enriched our lives.
Carol and Albert are missed by the animals. Even now, if an animal who once knew them visits their home, they lay at the foot of their bed and have the saddest look you have ever seen, missing their good friends. Not only were they appreciated by The BC SPCA, they were appreciated by all the animals they came in contact with.