April 3, 1936 – September 22, 2017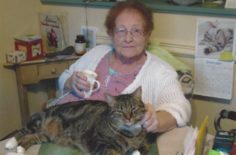 Josephine Bernardo (nee Harris) was born in Selkirk Manitoba and was raised in Manitoba. She loved all animals but her favorite animal was cats; she always had one or two of them.
Josephine and her son Dereck moved to British Columbia, where she met her husband Octavio Bernardo. Josephine primarily worked in clerical jobs she finished her career in the health care and always dreamed of living in Chilliwack.  Upon her retirement, she made her dream come true! Her favorite way to answer the phone was "Hello this is Josephine from Chilliwack".
She always dreamed about going to England where her parents were from but never did because she was so concerned for her cats.
Josephine was predeceased by her husband Tavi and her son Dereck.
She will be fondly remembered by her many friends, and the BC SPCA is incredibly thankful to her for planning ahead with her generous estate gift in support of the animals in our care.