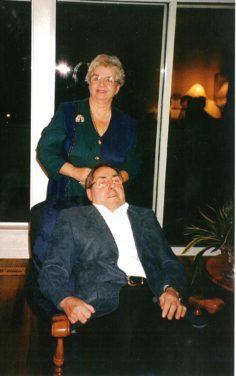 Marg was born in Ontario and after graduating High School she worked with the CIBC Bank.
When she came west to British Columbia she met and married Joe. They settled in North Vancouver where they managed several apartment buildings. Joe began working at Riverview Hospital (Colony Farm) where he worked until his retirement.
The moved to Chilliwack for a few years where they established a Dog Boarding Kennel. Subsequently, they moved to Surrey where they lived until Joe died in 2014 and Marg in 2018.
They both loved dogs and cats which they always had in their home. Throughout the years they bred Boxers, Japanese chins and Pekingese. They exhibited their dogs in dog show competitions and were members of several local Canadian Kennel Club dog clubs.
At the dog shows, Marg operated a booth called Canine Collectibles. She spent many enjoyable hours finding items at auctions and yard sales. She was also a voracious reader and when in a Care Home, in her final years, generally won the trivia pursuit competitions!
Marg was an avid gardener and both she and Joe spent many hours developing their large garden which, at times, was listed on garden tours. She had a beautiful exhibit of day lilies and was an active member of the Day Lily Society.
Although Marg and Joe did not have children of their own they were happy to be "Aunt" and "Uncle" to their friend's children.
Marg and Joe were animal lovers all of their lives and were grateful for the work of the  BC SPCA and how they advocate "for those who cannot speak for themselves".