March 3, 1938 – Feb 26, 2020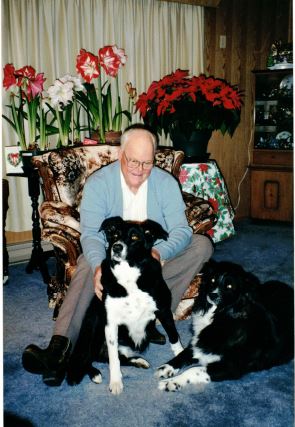 Ted was born in Port Alberni. When he was a teenager, his family moved to Burnaby where he met the love of his life, Sharon Corbett. After graduating from high school and the University of B.C., Ted began a long and fulfilling career as a teacher. In Burnaby, he taught at Suncrest Elementary and Royal Oak Secondary. Then in 1976, Ted, Sharon and their two children moved to Sicamous, where Ted continued his teaching career at Eagle River Secondary and Parkview Elementary. He also embarked on a journey of passion – for farming.
Ted and Sharon were renowned for their quality livestock. After 35 years of teaching, Ted retired and was able to pursue his dream of showing his livestock at the local IPE. The success in the show ring was a culmination of his careful breeding of his sheep and tireless hours of grooming, which resulted in the animals looking their best.
Animals were always present in Ted's life. He raised everything from rabbits, turtles, fish, finches and dogs. Dogs in particular were always present, and were considered important members of the family. Although Ted loved all dogs, he had a real soft spot for border collies. Over the years, Ted had four of them, who were very helpful at chore time and great at keeping him company. One of these dogs was a rescue that his daughter had urged him to take in. Posh was abused and abandoned by her owners, left to fend for herself. Given some time to heal and lots of love and attention, Posh became a loyal pet to Sharon and Ted.
After the passing of his dogs, Ted struggled with the idea of taking in another pet. Instead, he always rose to the occasion of looking after his four-legged friends, as he so fondly called them. His friends and family would jokingly refer to his home as the "Hilton on the Hill". Ted would spend hours throwing a ball for one or more of his buddies: Aspen, Teak or Millie. There were many long conversations about the antics of his dogs or the dogs of his friends and family. Ted will be forever remembered as a kind spirited, gentle man with a heart of gold when it came to his pets, friends, and family.
Thank you, Ted, for becoming a Forever Guardian and thinking of the animals.