Bertha Daloise (nee Muyres) was born in St. Gregor, Saskatchewan on June 17,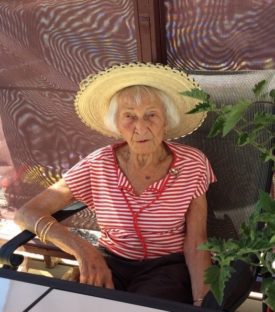 1926. When Bertha was a young adult she joined the Navy in 1945, however due to her father's illness she was discharged honourably in 1946.
Through her 93 years of life Bertha was married to Tom for many years until he took sick and passed away. Bertha continued on working her way up the ladder with BC Tel and was quite successful. Bertha retired from her career to travel which was a great passion of hers.
In her later years she met the love of her life, Charlie Brown. Charlie and Bertha spent over a decade together as one. They joyfully cruised the open waters together seeing different parts of the world. They shared a common love of dogs. Animals always could put a smile on Bertha's face even through her darkest days towards the end of her incredible life. Bertha, who had no children, became a Guardian to the animals throughout the years. Animal Welfare was a cause she had deep compassion for.
Charlie misses Bertha dearly, but every time he sees a dog, any dog, it brings a smile on his face remembering how much Bertha would light up every time one was close by.  Thank you Bertha, for remembering the animals and continuing to be there for future generations of animals in need!