February 19, 1937 – December 15, 2017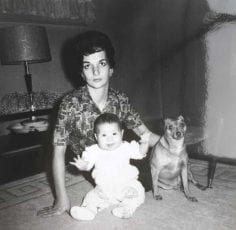 Evelyn Mary LaBoucane (née Frandsen) was born in Vancouver, British Columbia and lived most of her life in Lynn Valley on the North Shore.
She shared her life with her husband Al, her two children (grand kids and great grand kids too) and four furry friends.
Evelyn loved dogs and enjoyed the lives of Tiger, Caesar, Misty and Belle. She co-parented Misty and Belle with her sister, Grace, and loved every minute it.
Evelyn spent the last 25 years plus living along the edge of Lynn Creek in Bridgeman Park where a walk in the park would ensure several canine encounters every time.   A bench in her honour now sits along a pathway behind The North Shore Winter Club. If you find yourselves in the neighborhood, Evelyn's family invites you and your favourite pooch to visit her bench and to take some time to enjoy the surroundings and all the blessings that life affords.