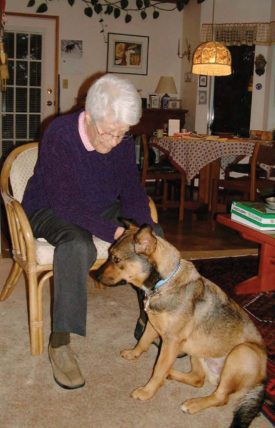 May 14, 1920-November 5, 2019
Trudi emigrated from Holland to Canada in 1951 with her husband Lou and young family, eventually settling in the Cowichan Valley.
There was never a time during all these years that they were without a dog. If the dog was not from the SPCA, it was taken in from a neighbour, or from one of their daughters if they no longer had room for a dog. Trudi and Lou's children knew their parents had the compassion and willingness to shelter any dog that appeared at their door.
After Lou died in 2004, Trudi was left with Hannah, a wonderful dog they adopted from the Cowichan SPCA in 2003. Hannah was Trudi's faithful and loving companion until her death in early 2017.
In February 2017, Trudi moved from her home on Ortona Road to assisted living in Duncan, where she lived until she passed away in Victoria on November 5, 2019.
In the mystery where Trudi is now, there is certain to be a dog nearby.