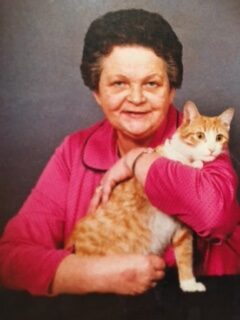 May 15, 1928 — August 17, 2019
Joyce was born in Vegreville, Alberta.  In her later teen years, she moved with several family members to Vancouver, B.C.
In 1947, Joyce married, and later had five children. The family moved to Chilliwack, where, for a decade, they lived the rural life on their farm.  Caring for animals was encouraged, whether it be for horses, cows, dogs or cats.
After the children grew up and left home, Joyce returned to Vancouver in the late 1970's.  There she was rarely without her constant companions: cats.
In retrospect, Joyce's children realize how animals enriched their mother's life, as well as the lives of the rest of the family.  To this day, Joyce's many years of stewardship for critters has been passed along to her children and grandchildren.