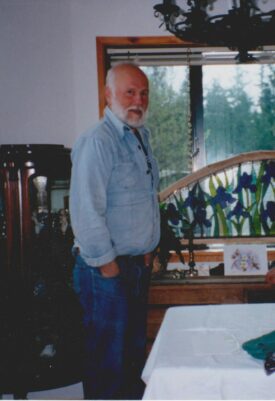 Gary Stewart Carter was born on March 24, 1933, in Minneapolis, Minnesota,  and passed away January 11, 2019, in Duncan, British Columbia.
To say the very least, Gary had a full and interesting life, often doing what others said couldn't be done. Gary was a self made man, a developer, fisherman, lumberjack and businessman who provided guidance and assistance to those who became his friends. He started out removing tree limbs for B.C. Hydro, and became an artist at dangerous tree removal, sometimes, as some might say, even becoming a danger to himself.
Gary's love of animals was unquestioning as all who knew him will attest, and on more than one occasion risked his own life saving his dog from drowning, and another time from a burning house. Gary will be missed by his constant companions: the golden Labrador, Marley, and Siamese cat, Ku, and by all those who enjoyed a real character.
Left to mourn are his daughter Candise Carter Macdonald White (Frank White), grandson David White (Becky Dusenbury), grandson Derek White, granddaughter Sarah White (Aaron Labey) and great grandson Myka White (parents David and Becky) and many cousins and relatives near and afar.