June 11, 1928 – September 19, 2016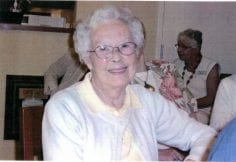 Paula Gully (nee Richard) was born in Calgary, Alberta, but she spent the last fifty-seven years of her life in the Okanagan. Paula had a love of dogs from a young age but always had a huge spot in her heart for any animal.   She was an athletic young woman involved in speed skating, curling, tennis, and later in life golf.   Paula and her late husband Walter (Walt) moved to Oliver in 1960 from Calgary (where they had run a successful construction company).  They decided to try something new and opened a resort/campground on Tuc-el-nuit Lake, known as "The Lakeside Resort".
After selling the resort they moved to Penticton for a number of years before they moved and  built their dream home on Vaseaux Lake. They eventually settled in Westbank for their remaining years.  They had several dogs during their time in the Okanagan but "Smoke" a Cockapoo they adopted from the South Okanagan-Similkameen SPCA was their one special friend and companion.  Paula passed away in her 88th year; she had no children but is lovingly remembered by her nephews and their families.
We are so grateful to the thoughtful gift Ms. Gully made to the BC SPCA and her legacy lives on through the lives of the animals in our care her gift has helped.