June 4, 1930 – May 3, 2016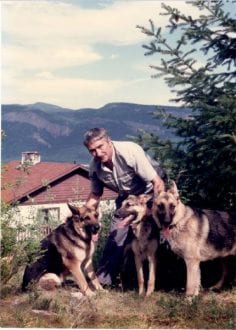 Wolfgang was born in Grobschweidnitz (Upper Lusatia, Saxony), Germany.  German Shepherd dogs were always part of his family since childhood. Wolfgang immigrated to Canada before the inner German border was closed.
Wolfgang loved to spend time  with his three Shepherds at his home overlooking the Enderby, BC cliffs. After his last Shepherd Daisy died, he loved to walk the neighbours' dogs, including a big Saint Bernard.
In Wolfgang's last years in a care home in Salmon Arm, BC he longed for visits from friends with dogs.
"We will always remember you Dad, Grandpa and your love of Shepherds."
Original German submission:
Wolfgang wurde in Grobschweidnitz (Oberlausitz, Sachsen) geboren. Als kleiner Junge wuchs er mit seiner Mutter Charlotte Neu in Lauba auf.
Deutsche Schäferhunde gehörten seit seiner Kindheit immer in seiner Familie.
Wolgang wanderte nach Kanada, bevor die innere deutsche Grenze geschlossen wurde.
Ute Liebe, Wolgangs älteste Tochter und ihr Sohn besuchten Dad 1992 aus Deutschland. Sie hatten eine wundervolle Zeit, Vati mit seinen Schäferhunden zu sehen. Das Bild zeigt Wolfgang mit drei Hirten zu Hause mit Blick auf die Enderby Klippen.
Nachdem sein letzter Hirten-Gänseblümchen gestorben war, liebte er, die Hunde des Nachbarn zu gehen, darunter einen großen Bernhardiner.
In Wolfgangs letzten Jahren in einem Pflegeheim in Salmon Arm, BC er sehnte sich nach Besuchern mit Hunden.
"Wir werden uns immer an dich erinnern, Papa, Opa und deine Liebe zu Hirten."