Including Animals in Social Justice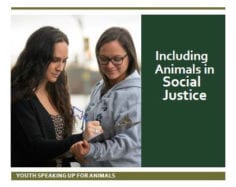 How do we perceive animals in our society? Students will investigate beliefs and stereotypes, question socially accepted practices and analyze animal welfare issues in our world today.
Lessons explore social justice issues such as inequality, stereotyping and our values and beliefs in relation to animals. Using animals as a bridge to discuss social justice issues helps ease students into sensitive and personal issues such as racism and stereotyping.
Stereotypes and influences on our beliefs
Animals in society/media literacy
Animal welfare: understanding the terms and discovering the issues