The Farm-Food Connection (Gr. 4-10)
Where does our food come from? Students will explore the lives of farm animals, what food labels mean and way in which we can make positive change for farm animals.
By looking at the natural behaviours of chickens and their living conditions, students will think critically about where their food comes from. The lessons are intended to be used after each chapter in the corresponding video.
Mind map (pre-video lesson)
Test your chicken IQ (pre-video lesson)
Introduction
Anatomy of a chicken
Behaviours of chickens
Nutrition for chickens
Living conditions
Egg development
Grading eggs
Meat versus egg chickens
What to buy
Who is Ian Duncan?
Extension activities
Request BC SPCA Lesson Plans »
Including Animals in Social Justice (Gr. 6-12)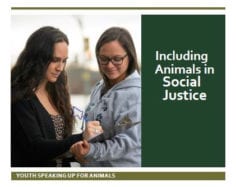 How do we perceive animals in our society? Students will investigate beliefs and stereotypes, question socially accepted practices and analyze animal welfare issues in our world today.
Lessons explore social justice issues such as inequality, stereotyping and our values and beliefs in relation to animals. Using animals as a bridge to discuss social justice issues helps ease students into sensitive and personal issues such as racism and stereotyping.
Stereotypes and influences on our beliefs
Animals in society/media literacy
Animal welfare: understanding the terms and discovering the issues