Kindness Counts (Gr. K-2)
How can kind acts make positive change? Kindness Counts teaches children empathy and compassion for animals, people and the earth we inhabit through individual acts of kindness.
Simon Says you are like me
I wish
Making a difference
Request BC SPCA Lesson Plans »
Bite Free (all grades)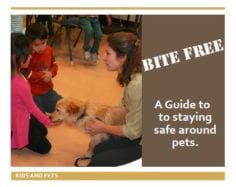 Why do animals bite? By giving students the tools to read animal body language, we help them understand how to interact safely and responsibly with pets. Be sure to watch the Bite Free video that accompanies the lessons.