An adult female raccoon was recently trapped and removed from an area, which meant her two baby raccoons were unknowingly left behind.
The orphans were found a few days later by a caring member of the public when they were heard crying and calling for their mother. Fortunately, these two baby raccoons are now being cared for at BC SPCA's Wild Animal Rehabilitation Centre (Wild ARC).
"When they first arrived their eyes and ears were still closed and they were dehydrated and very hungry," says Andrea Wallace, manager, wild animal welfare. "The raccoons are now being fed a specialized diet five times a day to ensure they get the nutrition they need to develop properly."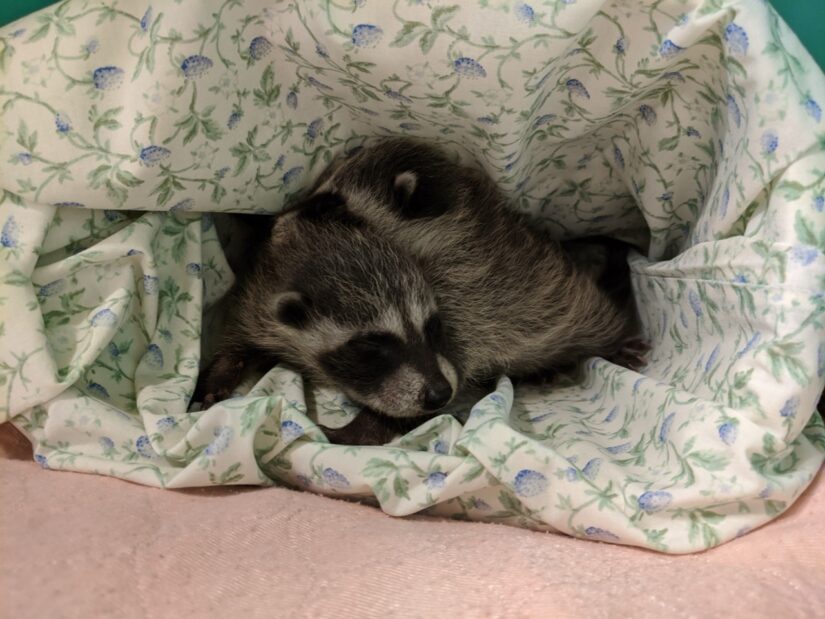 However, according to Wallace, the baby raccoons have "a long road of care ahead as they develop and learn how to fend for themselves. It will take until the fall before they will be ready for life on their own back in the wild."
You can check on the progress of orphaned baby raccoons on the Wild ARC Critter Cam.
The story of these orphaned raccoons serves as a reminder that the BC SPCA does not recommend trapping and relocating wildlife away from their home.
"This is generally not a permanent or humane solution and can not only lead to situations like leaving young behind," says Wallace "it can also result in injury when an animal tries to escape a trap. The animal may also starve trying to find food, get into fights with other animals over territory, or spend vital energy trying to return home." For these reasons, says Wallace, trapping and relocating wildlife is not recommended nor is it an effective long-term solution as other individuals will move in in their place.
If you are experiencing a wildlife issue, check out these BC SPCA resources:
You can also call the BC SPCA Provincial Animal Helpline toll free at 1-855-622-7722 for help and advice, contact an AnimalKind accredited company or ask your wildlife control company to follow AnimalKind standards (PDF).
Want to receive more stories like this, right in your inbox? Subscribe to WildSense, our bi-monthly wildlife newsletter.