This cat came back but not the very next day. Jennifer Rollins says their calico kitty escaped from her Vancouver Island home one day in July 2017 after one of her kids accidentally left the door open. The family put up posters and shared Facebook posts in the hope that one day their beloved cat would be found. As time passed Rollins feared that their 10-year-old furbaby was gone for good.
She remembers when they first got Hello the cat a few months after her daughter was born when the family was still living in Edmonton. Hello is short for Hello Kitty and Rollins' baby girl 'chose' Hello from a litter of kittens.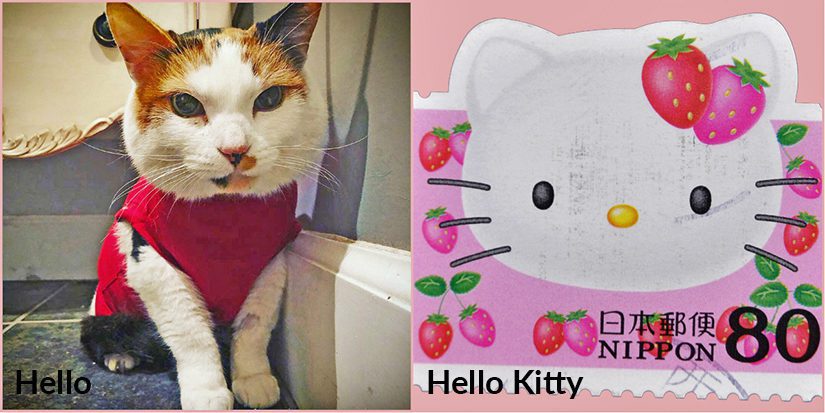 The cat bonded with the family dog Athena who is around the same age. "They sleep together and are best friends. Hello will run around Athena's legs and it's super adorable," Rollins says. Hello wasn't as crazy about people as she was about Athena. "When we lived in Edmonton she liked to be outside and to do her own thing. She was a mouser, chaser and an adventurer."
When the family moved to Vancouver Island Rollins decided it would be better for Hello if she became an indoor cat. Hello had other ideas and escaped. The family eventually stopped looking for her and accepted that their kitty would never return. They adopted a black cat called Popcorn and a long-haired tabby named Rue from a local rescue. Little did they know that Hello was alive and being fed by several households in the area who assumed she was a friendly stray.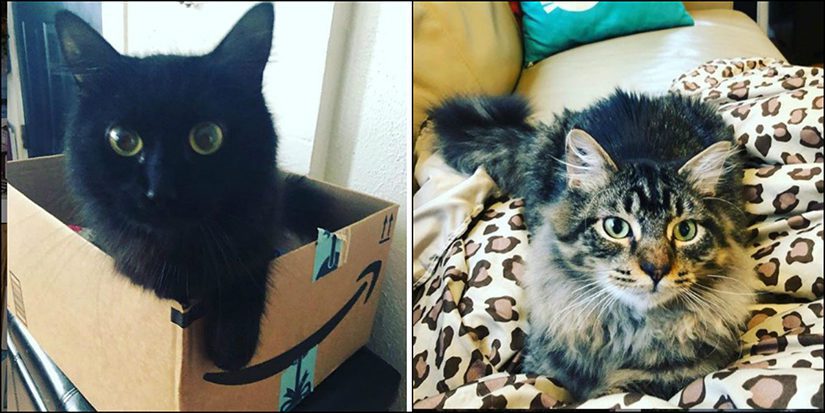 In early April 2019 Rollins got a call from her ex-husband in Edmonton, who told her the Comox Valley & District SPCA had contacted him because they had found Hello. His phone number hadn't changed and was connected to the cat's microchip. SPCA staff had brought Hello to the Van Isle Veterinary Hospital. Rollins and her two daughters rushed over there immediately then burst into tears when they saw Hello. "We honestly thought we had lost her," Rollins says. "It was really shocking. The entire staff was crying and we were crying."
Hello had a wound on her chest, which prompted a Good Samaritan to bring her to the SPCA. Staff explained that Hello would need surgery but she would be okay. They told Rollins that when Hello goes home she will need to be put in a different room and slowly introduced to the family's other cats. "I was like hyperventilating and the kids are crying. They were putting together this care package for Hello to come home and rubbing my back. It was really crazy and overwhelming but they were so nice," Rollins says.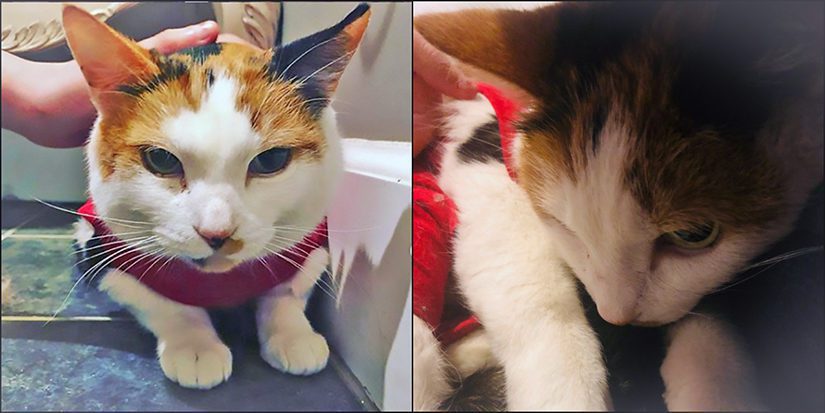 Her family paid the vet bill and got to visit with Hello before she went in for surgery. "The people in the waiting room were crying it was quite the day. It's rare that an animal would come back and we sure missed her so we're very grateful to everyone who fed her and looked after her along the way."
Hello was finally able to go home with her family, after nearly two years of living outdoors in the cold and rain. She was reunited with her best friend Athena and despite having just gone through surgery, tried to jump out of Rollins arms to cuddle with the dog.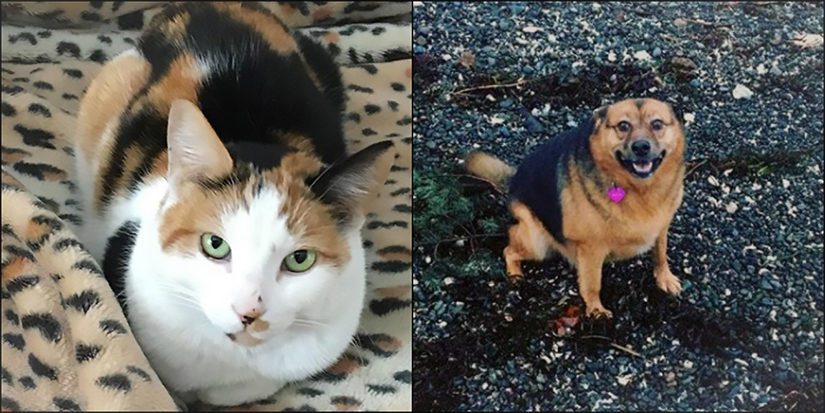 Hello had braved the elements on her own and gained a true appreciation for her family. "Now she's incredibly loving and vocal about wanting more snuggles. She's just absolutely in love with my oldest daughter and sleeps in her bed at night," Rollins says.
Hello owes her life to the Good Samaritan who brought her to the SPCA when she was injured and to her family who equipped her with the proper permanent ID, a microchip, which helped Hello find her way home.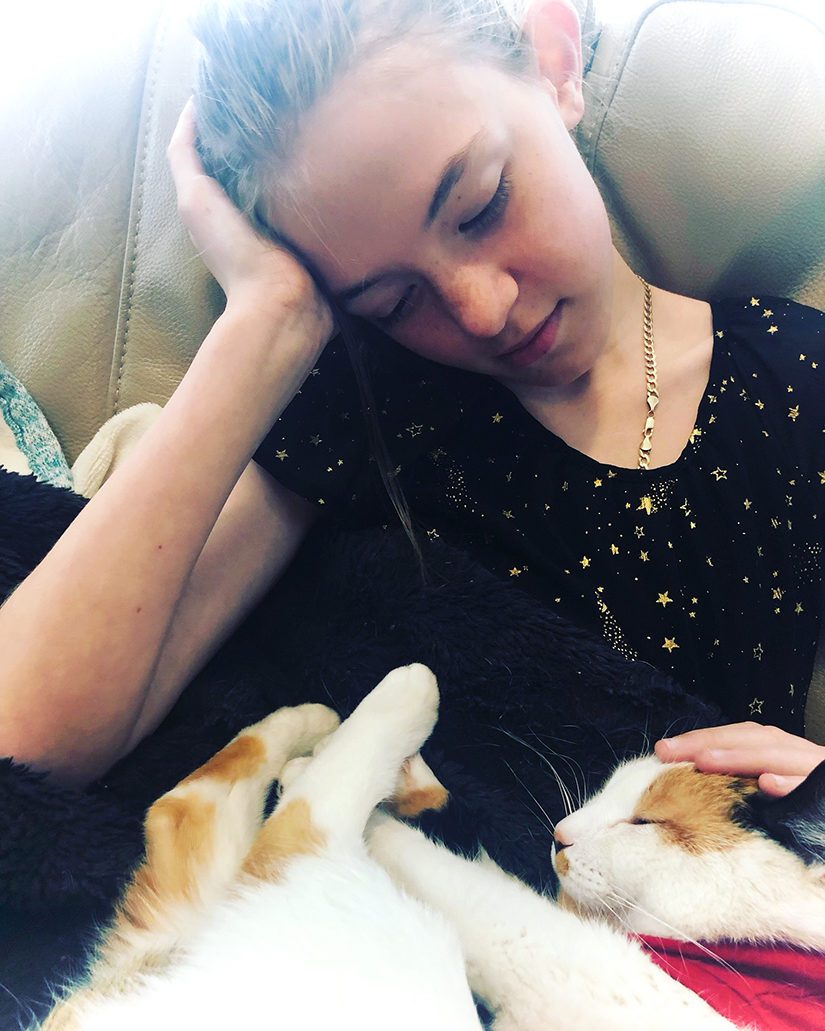 Microchipping is important
Microchipping is a permanent form of ID that can help a lost pet find their way home. Once an owner has microchipped a pet, they should register the microchip with the BC Pet Registry, along with their contact information.
Any animal shelter or veterinary clinic can scan a lost pet's microchip and contact their family using the information in the registry attached to the pet's microchip number.
Make sure your pet has the best chance of being reunited with your family by ensuring they have at least two forms of ID (microchip, collar with tags, ear tattoo) and by keeping your contact information updated.