The BC SPCA is seeking the public's help in identifying the individual who left a cat to die, buried in garbage, in southeast Pouce Coupe on April 23. The one-year-old female muted tortoiseshell cat named Rosie was found stuffed inside a box at the bottom of a dumpster with her legs forced behind her neck and restrained with zip ties.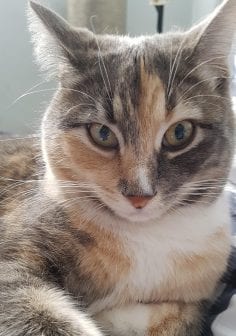 "A man was collecting bottles from the dumpster, located outside the Hillcrest Motel, at 11:30 p.m. on Monday, when he heard a soft meowing coming from underneath the piles of garbage," says Wendy Davies, manager of the BC SPCA's South Peace Branch. "He dug under the piles of garbage and discovered the cat inside a taped box with her limbs zip-tied together." The man freed the cat and cared for her overnight before taking her to the BC SPCA's South Peace Branch in Dawson Creek the following morning.
"We immediately took the cat to the vet and thankfully she has no lasting injuries or medical concerns," says Davies. "If that gentleman hadn't found her when he did, though, there's no doubt she would have suffocated. It is heartbreaking to think how much she was suffering and how terrified she must have been."  The SPCA was able to trace the cat's owner, who had reported her pet missing from Dawson Creek at 8:30 Monday evening. "Rosie was part of our community low-cost spay/neuter program, so she had a tattoo and microchip," says Davies. "We are seeking any information about why Rosie was taken to Pouce Coupe and how she ended up in this life-threatening situation. It is clear from the way she was tied up and buried that this was a cruel and deliberate act of animal cruelty."
Anyone with information is asked to please call the BC SPCA Animal Helpline at 1-855-622-7722.