When the COVID-19 crisis hit the province, the BC SPCA rapidly pivoted its services to support additional vulnerable animals and people across B.C. through its outreach programs to ensure food and supplies went to the animals and pet guardians who needed it the most.
Here are some of the ways we have been meeting the needs for people and pets alike.
Contact-free support from branch locations
Due to the COVID-19 pandemic, BC SPCA branches adapted their food bank services to ensure people in need could access food contact free, either by appointment or with a 'take-what-you-need' bin outside the gates.
● In Surrey, the education building was quickly repurposed to house and get pick-up requests ready for pick-up. Tables were set up by the gate to create a distanced handover of supplies to anyone in need. In addition to providing food to individual pet guardians, the BC SPCA provided large food donations to the Surrey Community Cat Coalition, which supports community cats and their caretakers in the Surrey area. "We service a large area, and quickly became a pick-up point to meet pets needs in large and small quantities," says Elaine Nelson, assistant manager at the BC SPCA in Surrey.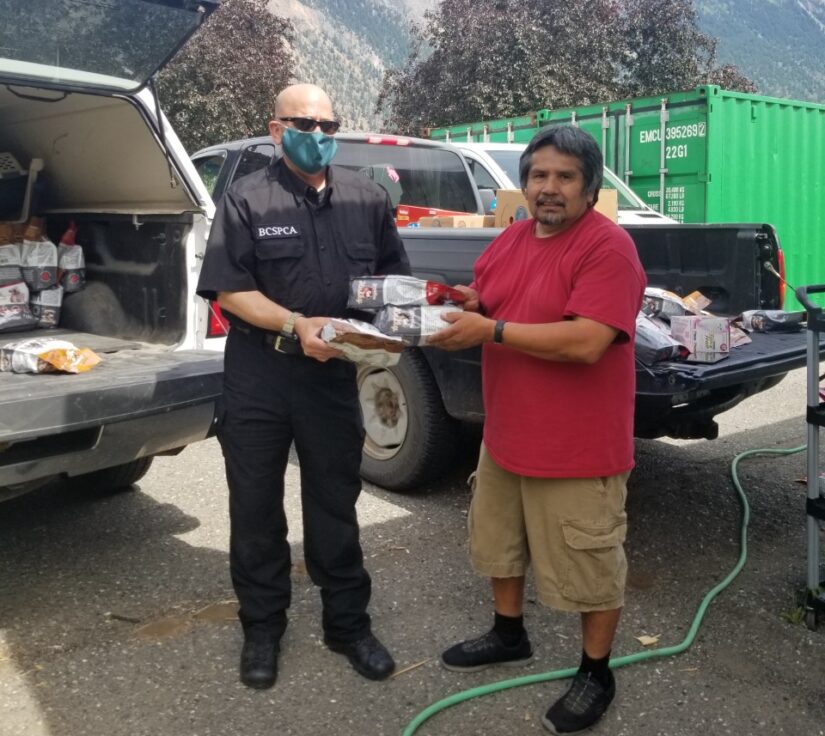 Provided support to remote communities
As part of its outreach programming during the COVID-19 pandemic, BC SPCA facilities across the province have been delivering much-needed pet food and supplies to First Nations and isolated communities that were restricting comings and goings to protect their communities. 
● BC SPCA branches on Vancouver Island worked together to support remote and northern communities on North Island. Through a partnership with the Society of Saint Vincent De Paul on Vancouver Island, volunteers were able to make a delivery of food to a remote community located three hours away from the Campbell River Branch, the most northern BC SPCA location on Vancouver Island.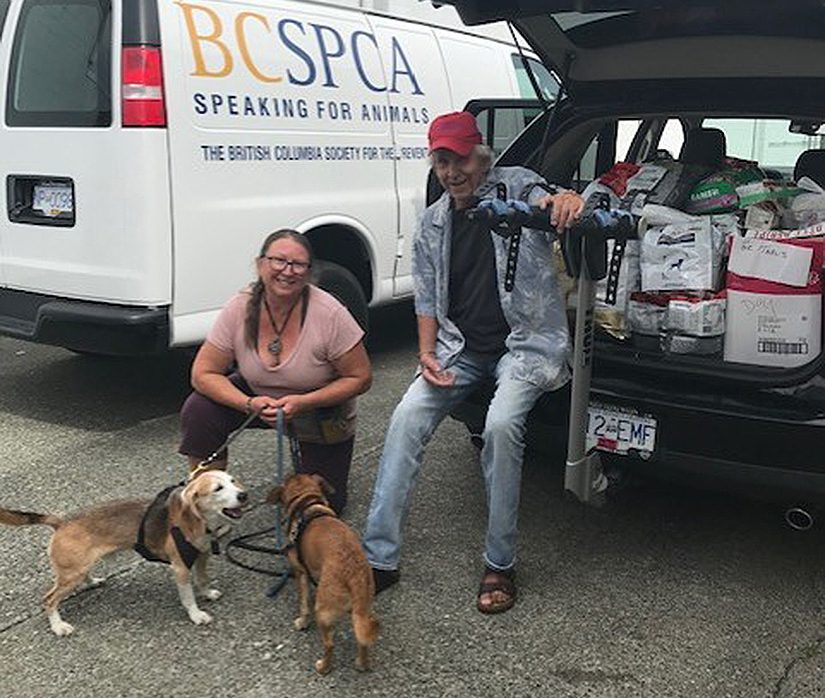 New and expanded partnerships with community organizations
BC SPCA branches across the province either developed new connections or extended partnerships with various organizations in their respective communities.
● The BC SPCA in Parksville-Qualicum Beach partnered with the Mt. Arrowsmith Salvation Army Food Bank to provide the Outreach Pet Food Program for those pet guardians affected by the pandemic. The branch has been able to deliver more than 880 kilograms and 500 cans of pet food to 300 cats and dogs each month since April. "Our clients are grateful and relieved to know that they not only can feed themselves but also their pets," says Bonnie Brown, business manager at the Mt. Arrowsmith Salvation Army Food Bank
● The BC SPCA in Shuswap is extremely grateful to the community for the donations of unopened dry and canned pet food and cat litter that the SPCA has been able to distribute to pet guardians in the region through the Animal Food Bank and the Second Harvest Food Bank. "We're so thankful for the partnership we've had with the Shuswap SPCA for the past five years," says Vahlleri Semeniuk, manager of Second Harvest Food Bank. "Even before the pandemic, our clients would be happy to see the SPCA volunteer and pet food bins as the first point of contact when coming into our building. It's a great community service."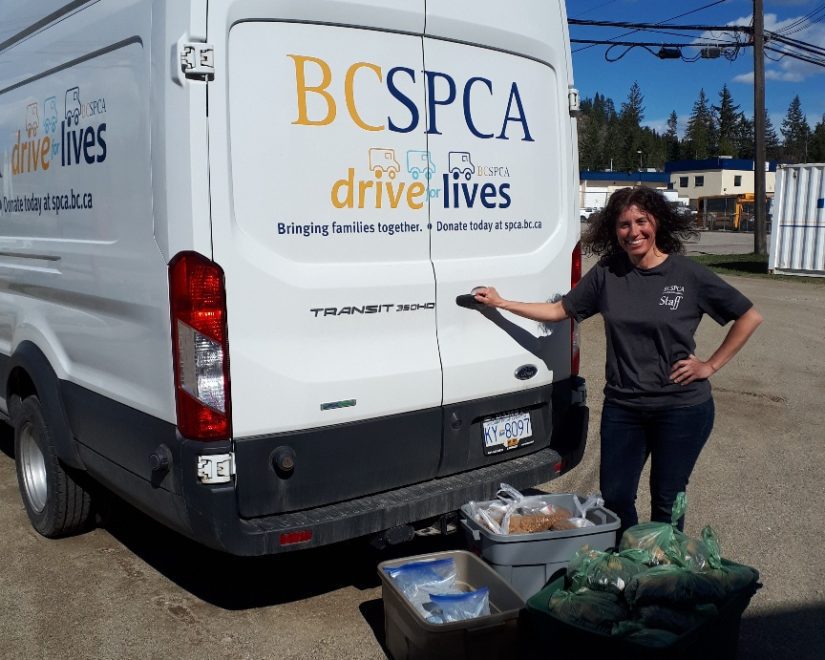 ● The BC SPCA in Victoria was very fortunate to already have strong relationships with community agencies, like the Victoria-based Cool Aid Society. The branch delivers large numbers of hampers to the Cool Aid Society every two weeks to supply its clients with the items they need for their animals. From there, the organization distributes the items to those pet guardians in need. "The donations end up not just helping the animals have a more stable and consistent diet, but also greatly reduce the stress on pet owners who frequently have to spend money they don't have to ensure their animals have the best life possible," says Alan Rycroft, Community Relations Manager, Cool Aid's Community Manager.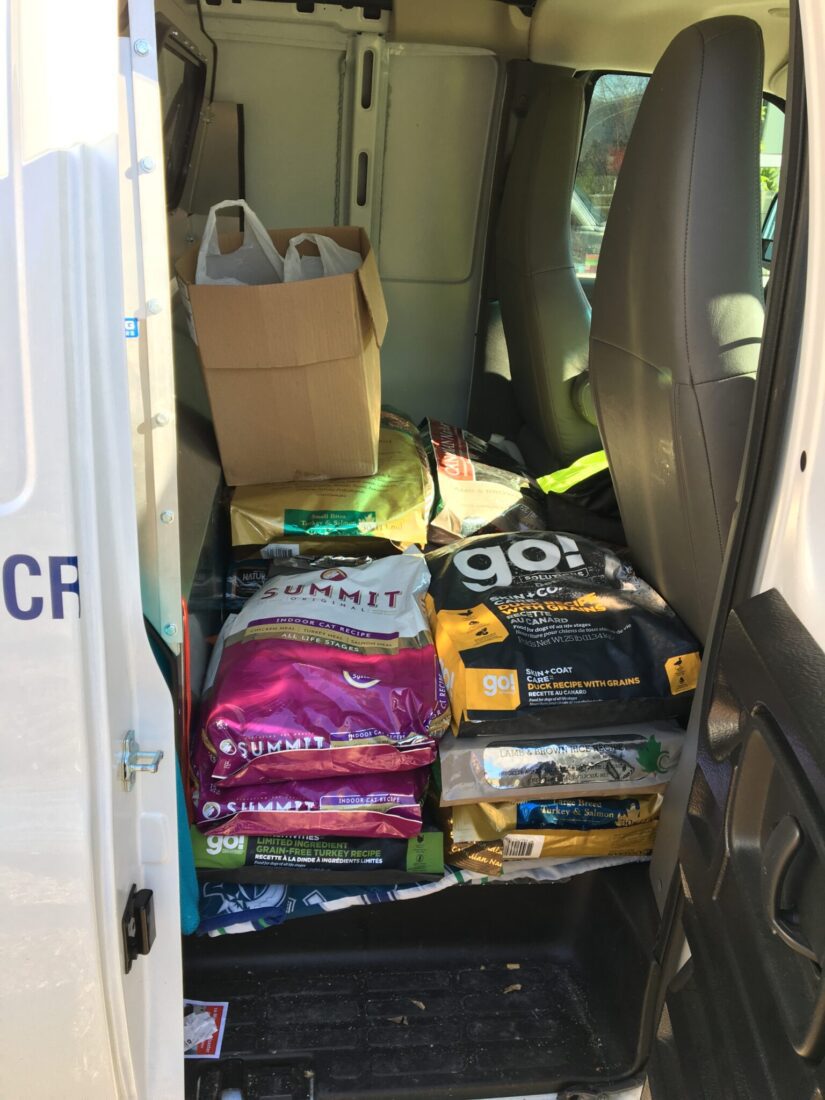 So far, the BC SPCA has delivered more than 57,000 kilograms and nearly 36,000 cans of dog and cat food to an estimated 14,175 dogs and 11,982 cats across the province. With your continued support, the BC SPCA hopes to continue providing pet guardians with the necessary supplies throughout the pandemic, and beyond.
The BC SPCA appreciates and recognizes the incredible donors – young and old — who have been supporting their local branches with donations of pet food and supplies over the last year, sometimes arriving with a truckload. It's these donations that have made this work possible and helped us achieve some remarkable numbers.
BC SPCA branches across the province continue to accept donations of unopened, in date pet food (wet and dry), and cat litter. For information on how to make a donation or how to access support in your community, please call the BC SPCA Animal Helpline at 1-855-622-7722.