Phone:
(250) 287-7766
Emergency phone:
(250) 287-7766
(During operating hours) After hours: call your local police or RCMP
Animal Helpline (toll free):
1-855-622-7722
Address:
891 13th Ave, Campbell River, BC V9W 4G9, Canada
Services offered:
Shelter, Takes surrendered animals, Adoptions, Kids camps/programs offered
Email:
campbellriver@spca.bc.ca
Please note, due to the volume of emails received daily we may not be able to respond immediately. Should you need urgent assistance, please call.
Mailing address:
Physical address: 891 13th Ave, Campbell River, BC V9W 4G9, Canada
Phone: (250) 287-7766
Please call for hours of operation.
PO Box 541
Campbell River B.C.
V9W 5C1
Serving the following communities:
Northern Vancouver Island; Campbell River, Quadra Island, Cortes Island, Sayward, Sointula, Alert Bay, Port McNeil, Gold River, Tahsis and Port Hardy
Hours of operation:
Hours of operation
Tuesday to Saturday:

12 to 4:30 p.m.

Sunday, Monday & Stat Holidays:

Closed
Adoption fees*
*Fees vary by location and are subject to change without notice. Adoption fees are subject to PST (Provincial Sales Tax), which will be added at the time of adoption. All BC SPCA cat/kitten/dog/puppy/rabbit adoptions include a microchip and lifetime registration with the BC Pet Registry. Registration for lifetime protection is $45 for cats/kittens/dogs/puppies and $11.25 for rabbits, which will be added to the adoption fee. For more information please visit bcpetregistry.ca
Learn what's included in your adoption fee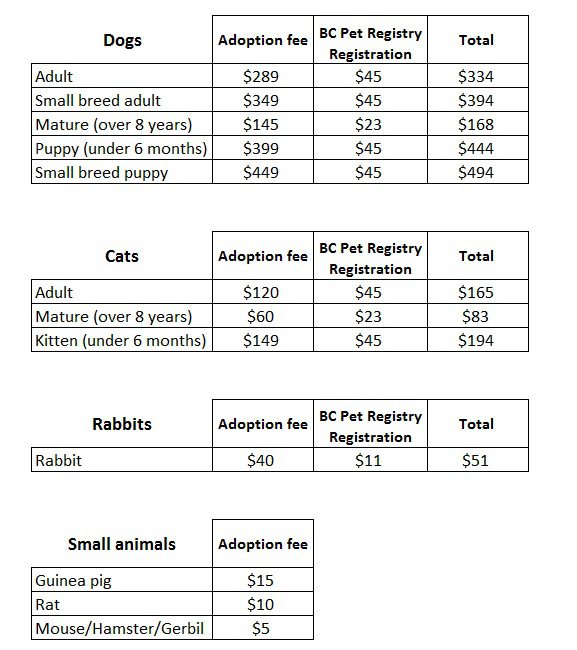 Welcome to the BC SPCA in Campbell River. We are one of 42 BC SPCA locations across the province serving sick, neglected, abused and homeless animals. Whether you are looking to adopt a new furry friend into your family or would like to know more about how you can make difference for animals in our community, we are here to help. The BC SPCA is a not-for-profit organization which relies primarily on community donations to help animals in need. Please join us in the fight against animal cruelty!
Search adoptable animals available through our location >>
Respectfully acknowledging that the the BC SPCA in Campbell River is  located on the unceded traditional territory of the  Ligʷiɫdax̌ʷ (Laich-Kwil-Tach) people; the We Wai Kai, Wei Wai Kum, and Kwiakah First Nations, as well as the Xwémalhkwu (Homalco) and K'ómoks First Nation whose historical relationships to the land continues today.