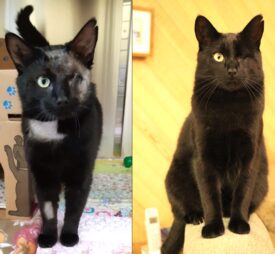 Finn came into the BC SPCA Campbell River Branch in March 2019 as a stray in desperate need of medical attention.
Upon his recovery, we discovered how social this young black cat was. Not even losing an eye dampened his spirit. After a couple months of veterinary care and rehabilitation, Finn was itching to meet his new family.
By the time May rolled around, Scenery and her husband had set their sights on Finn. They knew he was meant to be a part of their lives.
Over a year later, Scenery has written to us with an update on how much Finn's life has already changed:
Finn (two Ns but only one 'eye') was a stray with a medical emergency. My husband and I adopted him in May 2019. He is a complete joy.
Our previous cats were ages 17 and 23 when they left us, so little Finn at only about two years old and full of energy, took a bit of getting used to! He needs a lot of playtime.
Finn was still a bit skinny and patchy when we first brought him home but he has since become bright and shiny, as you can see in the before and after photos.
At first, Finn was mad for food. When we brought food over to him, he would shuffle backwards so he wouldn't glance away from the food bowl.
He is now starting to get picky with a few flavours of his very high-quality canned food. I hope means he knows he will never go hungry—or be cold, hurt or lonely—on our watch.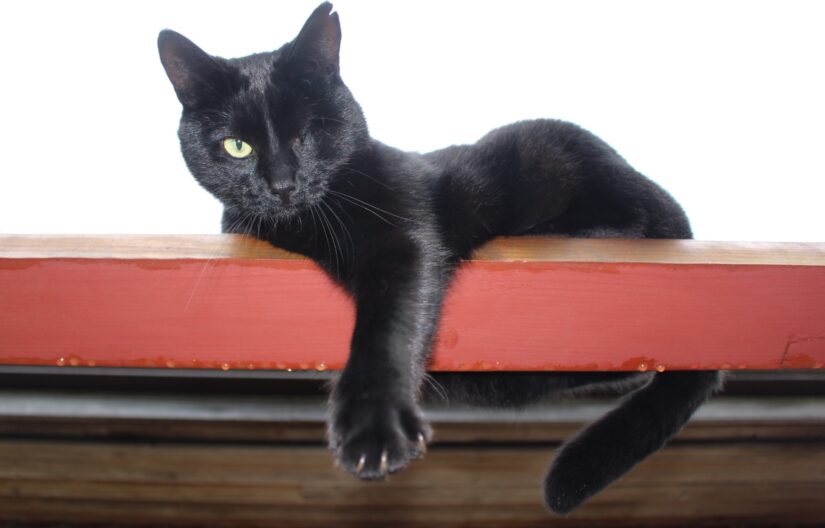 Finn is great company and delights my 95-year-old Dad, who I care for. Finn was initially very skittish about my father's walker and terrified of his cane or any stick for that matter (including brooms and flyswatters), which was heartbreaking. He is now almost fearless and very confident.
We love Finn dearly and are grateful to those who contributed to his medical emergency fund. We are also thankful to the great folks at the BC SPCA Campbell River Branch who cared for Finn before he came home with us. Please know he is happy and adored.
Thank you, Scenery, to you and your husband for adopting Finn and for giving him a second chance at life. We are so happy we were able to help save his life when he was found as a stray, and we're overjoyed that you have opened your home and hearts to this big goofball of a kitty. We wish you many more years of happiness together.
Have you adopted an animal from the BC SPCA and want to share your joy with others? Submit your adoption story!