We combined effective bylaws from across B.C. into one easy-to-use document, with the goal of creating safe and humane communities.
Our Model Animal Responsibility Bylaw is used by B.C. municipalities and regional districts to update their animal care and control bylaws.
What topics does the model bylaw cover?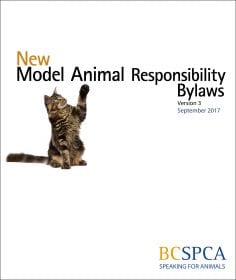 Bylaw provisions strategically address issues related to:
Download a copy of our Model Animal Responsibility Bylaw (PDF). We are also available to provide limited consulting services to local government on animal care and control bylaw-related issues.