We have a small but extremely dedicated staff team at Wild ARC. Their backgrounds are varied, including education in animal health, biology, environmental studies and wildlife welfare. They are united by their passion for wildlife and the hours they have dedicated to their chosen field, volunteering and further developing their professional expertise.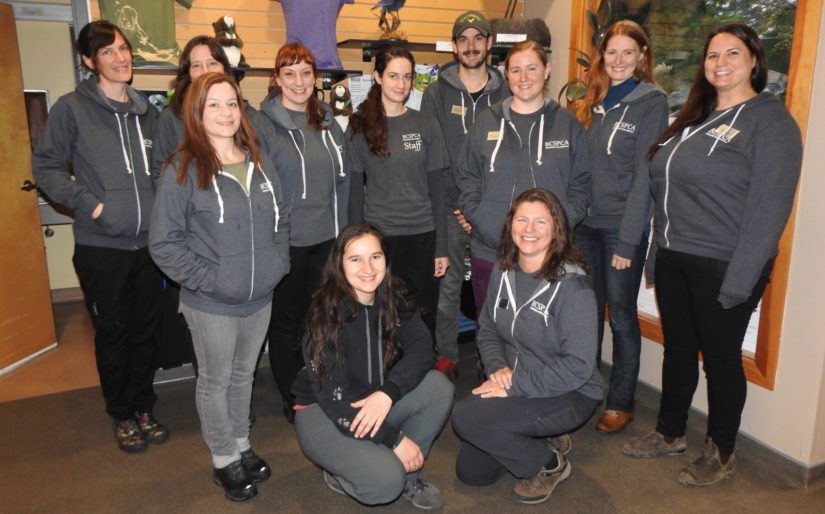 Current Opportunities:
We do not have any open postings at this time. However, if you are an experienced wildlife rehabilitator who has worked in a busy centre with many species and are legally entitled to work in Canada, we are always interested in keeping your information for future openings. Please email your resume and cover letter to info@wildarc.com.
Our Staff Team:
Ginelle Smith – Manager: Ginelle has an extensive and diverse background in operational and team management; from hospitality, telecommunications, non-profit and veterinary medicine industries. An avid scuba diver and outdoor enthusiast, Ginelle has a great passion for all animals, their welfare and conservation and has volunteered for many years to contribute to the protection and conservation of animals and their habitats.

Tara Thom – Assistant Manager: Tara has a Culinary arts background and a passion for cooking. She has worked in the non-profit industry for about 8 years and has worked with many amazing volunteers in each of her roles. She loves animals and is thrilled to be part of such an incredible volunteer and staff team at Wild ARC.

Marguerite, BSc, RVT – Senior Wildlife Rehabilitator: Marguerite has a biology degree from the University of British Columbia and completed her Animal Health Technologist training at Douglas College. She volunteered at Wildlife Rescue Association, the Vancouver Aquarium's Marine Mammal Rescue Centre and the Vancouver Avian Research Centre. She worked at the Mountain View Conservation Society and Wildlife Rescue Association, as well as in an emergency veterinary hospital.

Wallis  – Senior Wildlife Rehabilitator: Wallis has been a rehabilitator with Wild ARC for many years during her schooling, before becoming the interim Senior Wildlife Rehabilitator in December 2018. Wallis now continues to lead the animal care team with Marguerite.

Karen – Wildlife Rehabilitator: Karen has a geography degree from the University of BC. She began her career as a Wildlife Rehabilitator at the Wildlife Rescue Association of BC where she worked for many years. She has also completed an internship with International Bird Rescue in Fairfield, California where she worked as part of the rehab team responding to the 'Mystery Goo Spill' of 2015 which affected over 300 seabirds.

Rebecca – Wildlife Rehabilitator: Rebecca received a BA from Simon Fraser University and an Animal Welfare Certificate from Thompson Rivers University. She has studied Bird Biology through Cornell University and taken several courses through IWRC and NWRA and is a Certified Wildlife Rehabilitator. Her most valuable education has come through hands-on experience working at a number of wildlife facilities and veterinary clinics.

Neil – Wildlife Rehabilitator: Since a young age, Neil has had a passion for wildlife and environmental issues. He started in wildlife rehab by volunteering for the Wildlife Rescue Association of BC, where he spent several years as both a summer staffer and a full time Wildlife Rehabilitator. After completing an internship at Hope for Wildlife in 2017, he joined the Wild ARC team in May of 2018.

Mae, RVT – Wildlife Rehabilitator: Mae started her career with the BC SPCA at the Vancouver animal shelter. She completed her Veterinary Technician training at Douglas College and volunteered at Charlie's pet food bank, Wildlife Rescue Association and O.W.L. She also works at two local Veterinary clinics.
Rebecca – Wildlife Assistant: Rebecca grew up in Ontario and moved to BC in 2016. She has always had a passion and love for animals of all kinds and had volunteered with different private domestic rescues while living in Ontario. Rebecca became a part of the Wild ARC practicum program from May-June of 2019 and developed a whole new love and knowledge for wildlife during this time. Rebecca was hired as a wildlife assistant in September 2019.

Aria – Wildlife Assistant: Aria graduated from the University of Alberta with a major in biology and a minor in anthropology. She worked for a year at different wildlife sanctuaries working with animals native to the Amazon. Aria has a real passion for wildlife and all animals.

Casual Staff:
Wildlife Rehabilitators: Christina (RVT, CWR), Sabrina, Caitlynn, Sean,
Junior Wildlife Rehabilitators: Sara, Ashley, Alyssa, Jennifer
Wildlife Assistant: Shay
Andrea Wallace, PhD – Manager, Wild Animal Welfare: Andrea has a PhD in conservation science from Imperial College London, UK and has extensive experience in natural resource management, wildlife ecology and behaviour. Andrea was the Wild ARC Manager from March 2017 to December 2019 and has now taken on a role supporting wild animal welfare on a provincial level. Andrea continues to work closely with and lead the team at Wild ARC.

Sara Dubois, PhD, RPBio – Chief Scientific Officer & Director, Science & Policy: Sara works at the BC SPCA provincial office directing province-wide welfare science operations, programs and advocacy projects. She leads four teams of staff experts in animal welfare and policy (Companion, Farm & Wildlife Welfare, AnimalKind Accreditation). Born and raised in Langford, Sara graduated from UVic with a BSc (Biology) and obtained her MSc and PhD (Animal Science) from UBC. Sara started working for the BC SPCA in 2001 as a contract movie monitor for animals, and was Wild ARC manager from 2004-2008. She is a Registered Professional Biologist and serves as Adjunct Professor in the UBC Applied Biology Program.
Supporting our talented staff is an equally dedicated volunteer crew. Consider joining our volunteer team!