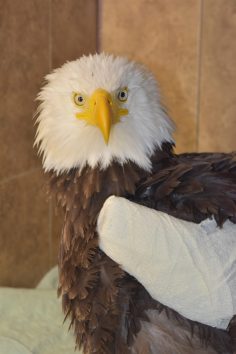 From a bald eagle who fractured her wing after a collision with a car to 125 garter snakes who came to us after their hibernaculum (the space where they congregate over winter) was disturbed by construction activities, to countless songbirds and small mammals caught by free-roaming outdoor cats, the staff and volunteers at Wild ARC were busy caring for wild animals in need. 2017 broke new records with 3,066 wild animals admitted and, after 20 years of operation, over 40,000 patients admitted since 1997.
Wild ARC could not exist without the dedication of its 256 active volunteers who contributed an incredible 26,542 volunteer hours in 2017. There is no shortage of ways that volunteers helped to keep Wild ARC running: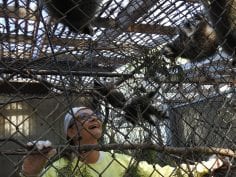 "I am constantly awe-struck by the commitment of our volunteers." said Meghan Hatch, Wild ARC Assistant Manager "Last year we had a volunteer who biked almost 100km roundtrip to come and care for the animals, people who used their personal airplane or helicopter to transport animals long distances, volunteers who worked three jobs and dedicated the only four hours of free time they had each week to care for our wild patients and one person who volunteered 1,116 hours mostly scraping poop off soiled linens. The list of selfless deeds performed by our amazing volunteers is seemingly endless!"
The support of our community was another factor in the success of Wild ARC.  Monetary and in-kind donations go a long way in helping us care for so many wild animals. "Our donors are very creative in the ways they support Wild ARC." said Andrea Wallace, Wild ARC Manager. "Last year we had kids who donated money collected from bake sales, jewelry-making and birthday parties as well as groups who contributed funds to Wild ARC through activities like underwater pumpkin carving or shoreline clean-ups." Other ways people and businesses contribute to Wild ARC are:
Purchases of merchandise from our online store or directly from our facility.
Businesses who donate their services to help wild animals in need like Central Victoria Veterinary Hospital or Pacific Coastal Airlines.
Donations of everyday supplies needed for our wild patients and greenery for their enclosures – our Metchosin neighbours are very generous allowing us to collect branches that can be eaten by patients like the beaver who came to us as a kit and will be released this spring!
The engagement of our supporters through our fundraising efforts continues to grow:
Our Wildlife-In-Focus contest raised a recorded breaking $16,372!
The "Help Rescue Orphaned River Otter" campaign brought in $17,000 and lucky winner Kelly L. from Vancouver will have the rare opportunity to attend the release of three orphaned river otters this spring.
Many people stepped up to vote for Wild ARC in the Phillips Benefit Brew project in November/December 2017 and we won! A unique Honey IPA will be created for Wild ARC and proceeds from the sales will go directly towards the care of injured, sick and orphaned wild animals (approximately $10,000). Look for the beer on the shelves in February.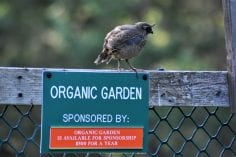 You can help make 2018 another successful year for Wild ARC by volunteering, donating to our cause or helping us to spread the word about wildlife issues. Follow us on Facebook, subscribe to our e-newsletter and share what you learn with your friends, family and colleagues. 80% of our wild patients are admitted because of human influence (animals caught by free-roaming cats or dogs, birds hitting windows, animals hit by cars, etc.). The more information we can share on how to peacefully coexist with our wild neighbours, the more wild lives we can save.