With summer around the corner, farmers' markets across the province are gearing up for a busy season ahead. Farmers' markets provide a wonderful opportunity to learn about where our food comes from and how it is produced. You can help improve the lives of farm animals by making informed food choices, all while supporting our local producers.
Here are three quick tips on how you can be an animal ambassador at farmers' markets!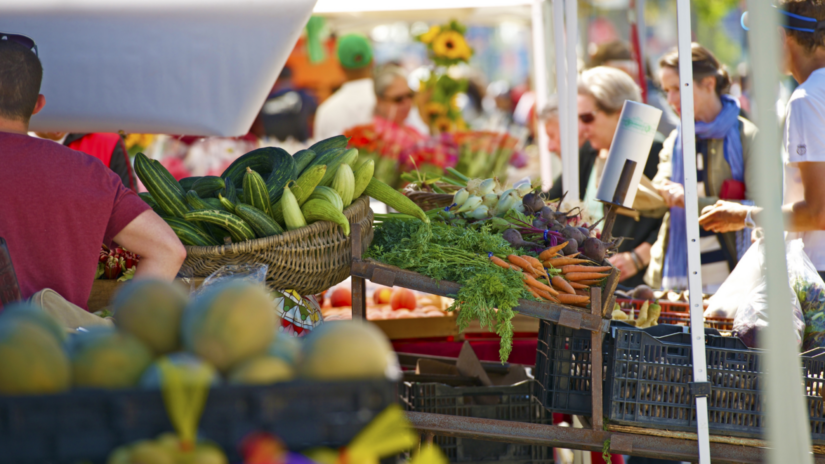 1. Support small farmers
Most food sold in supermarkets comes from intensive farms, where large numbers of animals are confined to small spaces. Farmers' markets are one of the best places to go if you want to find alternatives to intensively-farmed meat, eggs and dairy. Buying directly from small-scale, family farms ensures your money supports the farmer and their higher-welfare practices.
2. Ask questions
Farmers' markets provide a great opportunity for consumers to make humane food choices by speaking with the farmers. Farmers at the market take pride in what they do and are happy to tell you what life looks like for animals on their farm. Always be sure to ask lots of questions before you buy. Here are some examples of questions you might ask when looking for higher-welfare meat, eggs and dairy:
Does your farm have any animal welfare certifications?
Look for farms certified by Animal Welfare Approved, Certified Humane, Global Animal Partnership or Organic. These programs certify farms that raise their animals to higher standards of care than the minimum required in Canada's Codes of Practice. The programs verify their standards are being met through independent inspections of the farms. If your favourite farms aren't certified, encourage them to consider it.

Are animals raised indoors or outdoors on your farm?
Ideally, animals should spend most of their lives on pasture or have daily access to the outdoors. If they're raised indoors, make sure they are not raised in cages, and ask if they are provided with enrichment (e.g., perches for egg-laying hens and rooting materials for pigs). Check out our list of terms to look for and terms to avoid.
Do you have any photos of your farm?
Marketing materials with photos may be available at the farmer's stand. Ask if the photos were taken on the farm, and if you can see more photos of the animals and where they live.
Can I visit your farm?
Visiting the farm is one of the best ways you can ensure the animals are being raised to a standard that aligns with your values. Farmers may also have small stores or market stands on their farms that you can visit between trips to the farmers' market.
3. Don't skip the fruits and veggies
Over the past five decades, global demand for animal-based foods has increased. This has caused farm industries to transition toward intensive farming systems. Intensive farming puts tremendous pressure on the environment, and contributes to a number of problems affecting human health and farm animal welfare. To help reduce these impacts, an increasing number of Canadians are choosing to incorporate more plant-based foods into their diet. Health Canada supports this choice. Their most recent update to Canada's Food Guide recommends that Canadians "make it a habit to eat a variety of healthy foods each day" and to "choose protein foods that come from plants more often." So remember to fill up your reusable bags and baskets with a healthy variety of fruits and veggies on your next visit to the farmers' market.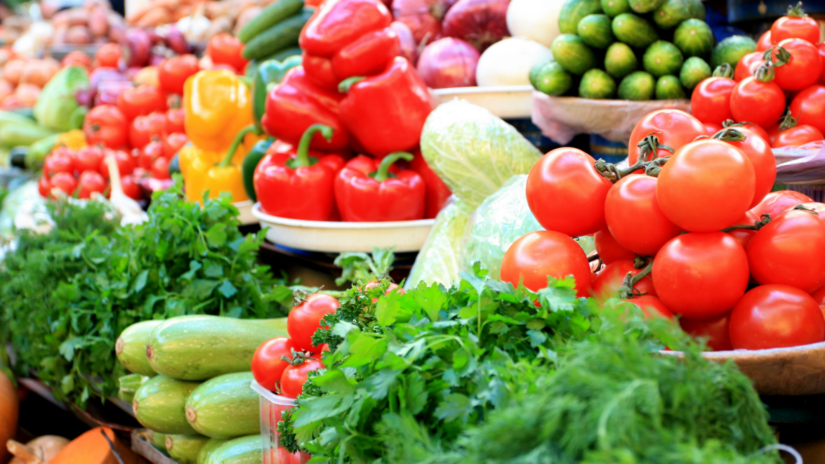 FarmSense e-newsletter
Are you passionate about farm animal issues? Use the form below to subscribe to FarmSense newsletter. Four times per year you will receive news and information on what the BC SPCA is doing to help further farm animal welfare in Canada!