The use of animals in research has long been a source of public controversy. Now, animal welfare researchers at UBC are conducting a study to find out how people feel about the use of animals in laboratory research and they want to hear from you.
To date, Canadian universities have provided little opportunity for public input into decisions about animal use. The University of British Columbia's Animal Welfare Program created Lab Views as one model for broadening the scope of research.
Lab Views is an online engagement tool comprising six different studies that cover a range of procedures and types of animal use. For each study you can report whether you are willing to support the use of animals in these areas, share the reasons for your decision and vote on the reasons provided by others.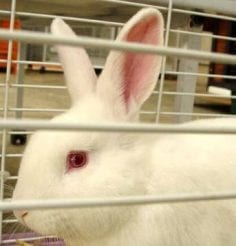 Your views will help contribute to our understanding of the types of animal use which are, or are not, publicly acceptable. As an evidence-based organization, the BC SPCA relies on this type of feedback to inform our public positions on animal issues.
This survey is the latest in a series developed by UBC to investigate public attitudes on a variety of animal issues. Previous studies on animal experimentation have examined views on genetic modification. The research team also welcomes public input on different dairy farm management practices, such as the use of pain relieving drugs for horn removal and providing access to pasture, through the Cow Views survey.
Results from a survey on the practice of tail docking dairy cows, are also now available.
When submitting your opinions through Lab Views, your identity and results will be kept confidential. Please go to yourviews.ubc.ca to register and then select "Lab Views" to begin.
You can support the BC SPCA's efforts to research, develop, and administer meaningful programs that enhance and ensure high standards for animal welfare in B.C. Please donate today.
The British Columbia Society for the Prevention of Cruelty to Animals is a not-for-profit organization reliant on public donations. Our mission is to protect and enhance the quality of life for domestic, farm and wild animals in B.C.