The Campbell River SPCA has received rezoning approval to move forward with a new community animal centre at 891 13th Avenue, a building owned by the Association Francophone de Campbell River.
The new 1,800-square-foot SPCA centre, expected to open later this spring once renovations to the building are complete, will house cats, kittens, small animals and a limited number of dogs and puppies. "We have been searching for an appropriate space to resume our services for homeless and abused animals in Campbell River for nearly a year now and we are extremely pleased to have found a space that works for our specialized needs and for the community," says Craig Daniell, CEO of the BC SPCA. "We are so grateful to the people of Campbell River for their tremendous support and encouragement during this time of transition."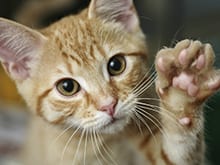 Stephanie Arkwright, manager of the Campbell River SPCA, says the new facility will be open five days a week and will assist animals rescued in cruelty investigations as well as other community animals. "We will also be providing specialized emergency services, such as compassionate boarding, and will provide temporary care for injured wildlife until they can be transferred to a wildlife rehabilitation centre or a veterinarian.
Arkwright says the SPCA hopes the new facility will serve as a community resource for animal care, education and support. "In addition to the animals in our care, we will have a retail area for pet food and related products and the centre will be a meeting place for our community volunteers and in the near future, for educational events for youth and adults."
A key issue the SPCA will be helping the city tackle is the surplus of abandoned and feral cats – Campbell River currently has one of the worst cat overpopulation problems in B.C.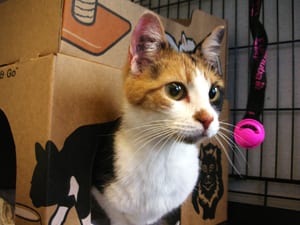 "The SPCA already has a successful spay/neuter assistance program in place and because we are a provincial organization, we have the ability to accept surrendered or abandoned cats from this community and use the BC SPCA's Drive for Lives transfer program to move the cats to other SPCA shelters to increase their chances of adoption," says Arkwright.
Arkwright says the key to the SPCA's success will be support from volunteers, donors, local businesses and the city. "We are a charity so we depend on community help and donations to carry out all of our services for homeless, abused, injured and neglected animals.  We are hoping that we can establish a strong volunteer program as quickly as possible, including on-site volunteers, foster homes, humane educators to assist with school programs, summer camps and other youth activities, community fundraisers and more." If you can help, please contact Stephanie Arkwright at 250-830-4192.
The British Columbia Society for the Prevention of Cruelty to Animals is a not-for-profit organization reliant on public donations. Our mission is to protect and enhance the quality of life for domestic, farm and wild animals in B.C.