It's National Siamese Cat Day! This popular cat breed is believed to have originated from Thailand and is known for being extremely talkative, affectionate and intelligent.
Siamese cat guardians had a lot to say about caring for their well-loved and gorgeous feline friends:
Aliese Mackenzie's cat Presley
"Presley is our princess and we couldn't imagine life without her. She sleeps on my back or chest while I'm sleeping. She's just too cute!
She also loves to sleep in our clothes drawer and even though her fur gets all over our clothes we allow it so she can be happy.
Presley is obsessed with cat treats. We give her a couple every time we wake up and come home from work, it's our thing and she's very vocal about it. She loves snuggling so much. We can't sit down for dinner without her wanting to curl up in our laps while we eat at the dining table!
We've tried to buy her toys and scratch posts but she's content to just play with string and scratch natural wood so that's what she gets. She loves house coats and kneading them so my spouse and I have gone through a few of those as well.
I was never a 'cat person' before Presley. I grew up with many dogs but because of Presley I now have love for all animals."
Mathew Fierke's cat Piper
"Piper is a sweetheart who loves to sleep on the pillow sprawled out right beside our heads every night. She enjoys supervised visits to explore the apartment hallway and flop on the carpet for a good roll.
She lives with an outgoing tabby named Mary who acts like a big sister to her and they play fight with each other sometimes. Both cats enjoy playing with wand toys and attempting to sneak food off the table at dinnertime.  Piper loves sitting in boxes and is more graceful than her sister Mary, who can be a bit overzealous and klutzy.
Piper doesn't like being picked up but will cuddle up beside her people on the couch and knead them with her paws before settling in and falling asleep.
We make sure she has everything she needs to be a happy and healthy kitty."
Mary Yates' cat Frankie
"We figured out early on that although Frankie was not a lap cat, she wanted to be in our company while doing her own thing. We made sure that all areas of our apartment had a variety of places for her to relax, observe, and engage if she felt like it – cardboard boxes, trays, high and low perches, places in darker areas, and spots where she can look out the window.
She also has lots of toys, and most days has supervised time on our balcony on a leash, where she munches on her cat grass and chatters at a crow who regularly sits on top of a nearby tall tree and seems to be chattering back at her!
This spring we are going to organize a 'catio' on our balcony for Frankie. We ensure that she has an excellent quality of life and she lets us know when she wants to engage. We reap the benefits of her energy, subtlety, sensitivity, and sense of humour every day."
Interesting fact:
It's common for Siamese cats to be cross-eyed and Leo is one cute example. He's a Siamese mix who was recently adopted with his friend Milusha.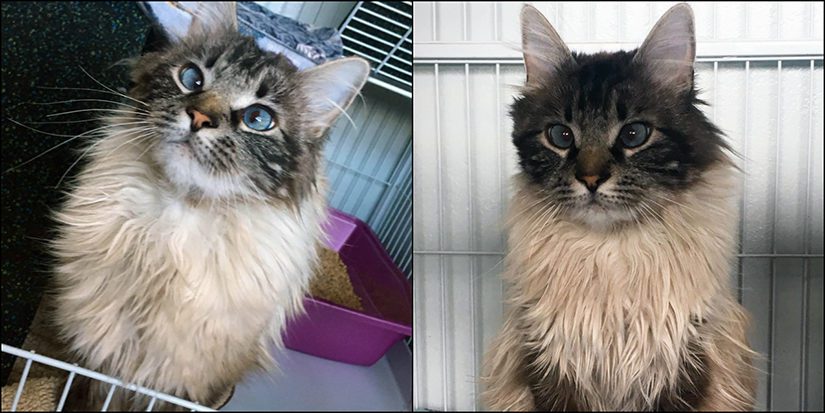 Search for Siamese cats on our adoption site.
Get updates from the BC SPCA
Want to receive stories like this, right in your inbox? Use the form below to subscribe for updates.