Staff with the SPCA's West Vancouver Branch are hoping you'll be able to help them help Eris, a two-year-old Presa Canario/Cane Corso mix. This active young lady will need surgery after tearing a ligament on her rear left leg; the injury requires surgery to repair the damage.
"She was playing in an outdoor off-leash compound last week when the injury occurred. This poor girl came to us when her owner couldn't cover her vet care for acute toxicity, so this injury adds to an already tough few months in and out of shelter," says Sarah Henderson, animal care supervisor, West Vancouver SPCA. Post-surgery, Eris will need extensive and costly physiotherapy to help her recover. Costs for her care are expected to reach upwards of $4,700.
Henderson says Eris is one of the most congenial dogs she's ever met. "Anytime someone steps into her kennel, she's been so affectionate, eagerly greeting them with happy wiggles. What's even more heartbreaking is that she loves to play fetch — which she obviously can't do right now. We'd love to get her playing and being her normal self again!"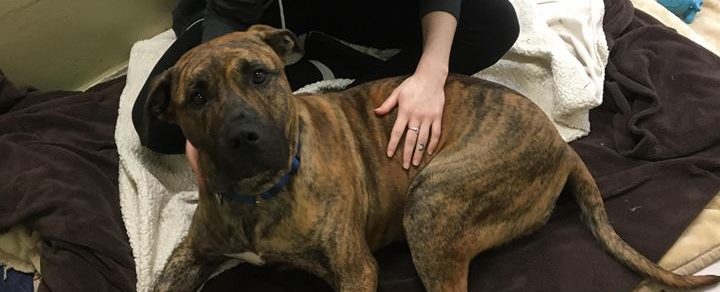 If you'd like to help Eris, or other animals like her, we invite you to visit our medical emergency website, or you can make a donation in person at the West Vancouver Branch, located at 1020 Marine Drive, in West Vancouver.