Sometimes it can take a bit of patience and determination help your felines thrive. After losing their much-loved cat Teddy, Lisa and her husband wanted to open their home for other cats in need. So, they started to form a new feline family.
Once they met Edie at the BC SPCA West Vancouver Community Animal Centre, they knew she was meant to be a part of their lives. Edie certainly had her adjustment periods, but she is now flourishing in her forever home.
Lisa has written to us with their story:
"We adopted Edie shortly after our beloved cat Teddy died of cancer. My husband and I believe that the best way to honour a pet who has passed is to adopt another in need.
We lived on Bowen Island at the time and the local animal rescue, CAWES, did not have any cats in need of home.
So, in April 2016, we started our search. Our first stop was at the BC SPCA West Vancouver Community Animal Centre where we met Edie, an eight-month-old tuxie. We were told that she was shy and skittish, but she ventured out to greet me. I immediately fell in love.
It was fun to have a kitten around because she loved to play, jump and chase. She would play hard and then collapse into a deep sleep—in the funniest positions.
Once Edie settled in, we adopted an older male cat, Charlie. Edie didn't enjoy sharing her space at first but, with a very gradual introduction to each other, they became friends.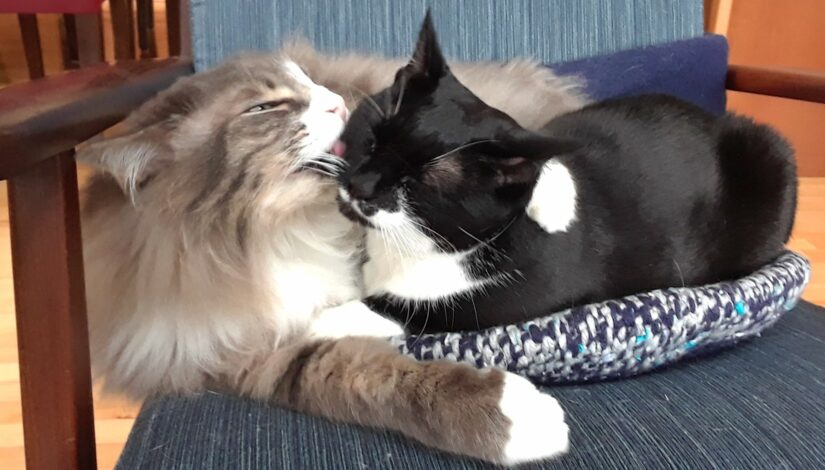 Now Edie loves her big brother so much that sometimes she'd rather cuddle with him than her humans! We love Edie so much. She is sweet, quirky and still a bit skittish, but has grown into a cuddly lap cat."
Thank you to you and your husband, Lisa, for choosing adoption as your first option. We think it's a beautiful sentiment that you chose to honour your old cat Teddy by adopting another in need. We love seeing even our most timid cats show their true personalities and live their best lives. Edie blossoming in her home with you, makes us so proud.
Have you adopted an animal from the BC SPCA and want to share your joy with others? Submit your adoption story!
Resources for cat guardians
How do I know if my cat loves me?