Notice: The BC SPCA West Vancouver location will have a scheduled BC Hydro power outage on Saturday, July 9. Please note we will be closed that day and our phone lines will be down from 9 a.m. – 4 p.m. For any animal emergencies please call our call centre: 1-855-622-7722. Thank you!
During COVID-19, and in compliance with provincial government regulations, our team is here to serve our community during our regular public hours of operation.
Appointments are still needed in order to maintain our occupancy limits and to serve people as efficiently as possible.
We ask all visitors to wear masks when entering our facility and to respect the physical distancing directions in place.
COVID-19 & Pets - Frequently Asked Questions
Phone:
(604) 922-4622
Emergency phone:
(604) 922-4622
(During operating hours)
(604) 879-7343
(Night 5 p.m. to 12 a.m.) After hours: call the West Vancouver Police Department
Cruelty Report and Wildlife Support Line (Toll free):
1-855-622-7722
Address:
1020 Marine Dr West Vancouver BC V7T 1B1 CA
Services offered:
Shelter, Takes surrendered animals, Adoptions, Kids camps/programs offered, City kenneling, Takes in stray dogs, Takes in stray cats, Takes in stray domestic small pets
Email:
wvan@spca.bc.ca
Please note, due to the volume of emails received daily we may not be able to respond immediately. Should you need urgent assistance, please call.
Mailing address:
Ambleside Park
PO Box 91072
West Vancouver, B.C.
V7V 3N3
Serving the following communities:
West Vancouver
Hours of operation:
Adoption hours:

Monday to Sunday:

12:00 p.m. to 4:00 p.m.

Other services:

Monday to Sunday:

10:00 a.m. to 5:00 p.m.

Stat Holidays:

Closed
Adoption fees*
*Fees vary by location and are subject to change without notice. Adoption fees are subject to PST (Provincial Sales Tax), which will be added at the time of adoption. All BC SPCA cat/kitten/dog/puppy/rabbit adoptions include a microchip and lifetime registration with the BC Pet Registry. Registration for lifetime protection is $45 for cats/kittens/dogs/puppies and $11.25 for rabbits, which will be added to the adoption fee. For more information please visit bcpetregistry.ca
Learn what's included in your adoption fee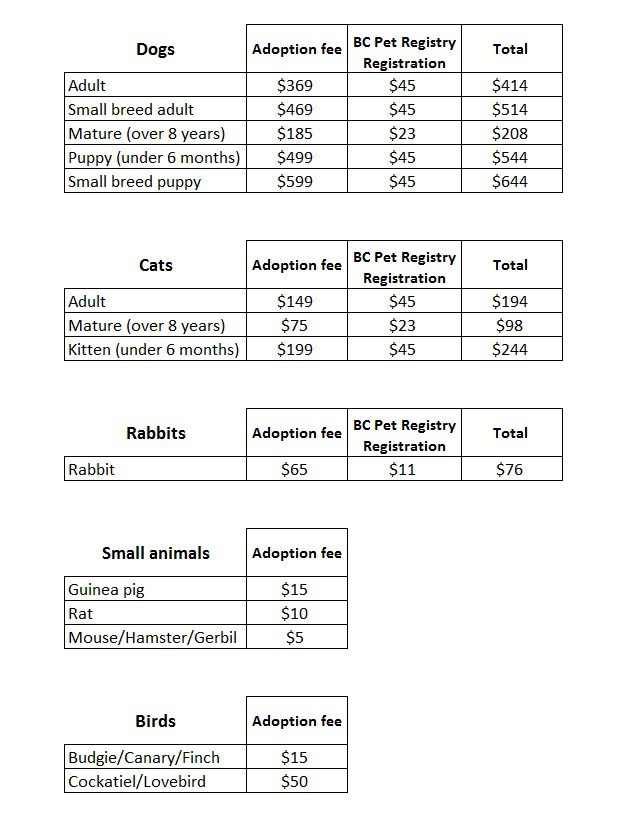 Welcome to the BC SPCA West Vancouver Community Animal Centre. We are one of 43 BC SPCA locations across the province serving sick, neglected, abused and homeless animals. Whether you are looking to adopt a new furry friend into your family or would like to know more about how you can make difference for animals in our community, we are here to help. The BC SPCA is a not-for-profit organization which relies primarily on community donations to help animals in need. Please join us in the fight against animal cruelty!
Search adoptable animals available through our location >>
For more information about our work in the community, check out our most recent newsletter (PDF).
Other ways to help animals in need
Wish list
» Donate useful items to the shelter – check out our wish list (PDF) of odds and ends.
»Donate useful items to the shelter via our Amazon wish list!
Bottle Drive
» Help local animals in need by recycling your bottles & cans! ♥ It's easy, learn how (PDF).
Respectfully acknowledging that the BC SPCA in West Vancouver is located on the unceded traditional territory of the downriver hən̓q̓əmin̓əm̓ speaking peoples – ,xʷməθkʷəy̓əm (Musqueam), and səl̓ilwətaɁɬ (Tsleil-Waututh) Nations, and the Skwxwú7mesh-ulh Sníchim speaking peoples – Skwxwú7mesh Uxwumixw (Squamish) Nation whose historical relationships with the land continue to this day.
Adopt Me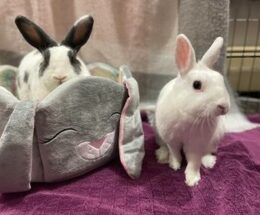 This lovely lady was surrendered with her best friend Bubbles. Together this inseparable pair is looking for a wonderful new place to call home. Sponge is very curious and loves to investigate as you spend time with her. She's also a climber and will often hop onto the highest point she can mange to gaze upon her surroundings. Sponge is very social with people and invites new friends to come visit her whenever they please, and is happy with being picked up and cuddled as long as its with your hands on her sides and not by her belly. She's very interested in spending time with people and can be easily bribed with some fresh veggies! Both Sponge and her bestie Bubbles would like to have an enclosure with a good amount of space. Sponge and Bubbles would work best in a patient and loving environment, and are well suited for children that understand the importance of being gentle and calm when interacting with the two love bugs. If Sponge and Bubbles are the perfect match for you and want to bring to your home, please fill out an application through the SPCA website.
Name:
Sponge and Bubbles
Age:
1 year old
Gender:
Female
Animal ID:
539299
Breed:
Dwarf
Upcoming events
13th August 2022: Flea Market – West Vancouver 2022
'Flea' Market Join us on August 13, 2022 BC SPCA West Vancouver Branch  1020 Marine Dr, West Vancouver *South of the soccer fields The BC SPCA West Vancouver Branch is holding our annual 'Flea' Market on Saturday, August 13. If you are 'itching' for something new (to you), you will find gently used items …
Continue reading "Flea Market – West Vancouver 2022"
Learn More
13th July 2022: Rabbit Hemorrhagic Disease (RHD) public vaccination clinic
The BC SPCA Vancouver Animal Hospital is offering a public vaccination clinic on July 13 from 1:30 – 4:00 p.m to help rabbit guardians protect their pets against Rabbit Hemorrhagic Disease (RHD), a highly contagious and potentially fatal virus.  The goal of the clinic is to make the vaccine accessible to guardians facing financial challenges, …
Continue reading "Rabbit Hemorrhagic Disease (RHD) public vaccination clinic"
Learn More