Phone:
(604) 922-4622
Emergency phone:
(604) 922-4622
(During operating hours)
(604) 879-7343
(Night 5 p.m. to 12 a.m.) After hours: call the West Vancouver Police Department
Cruelty Report and Wildlife Support Line (Toll free):
1-855-622-7722
Address:
1020 Marine Dr West Vancouver BC V7T 1B1 CA
Services offered:
Shelter, Takes surrendered animals, Adoptions, Kids camps/programs offered, City kenneling, Takes in stray dogs, Takes in stray cats, Takes in stray domestic small pets
Email:
wvan@spca.bc.ca
Please note, due to the volume of emails received daily we may not be able to respond immediately. Should you need urgent assistance, please call.
Mailing address:
Ambleside Park
PO Box 91072
West Vancouver, B.C.
V7V 3N3
Serving the following communities:
West Vancouver
Hours of operation:
Adoption hours:

Monday to Sunday:

12:00 p.m. to 4:00 p.m.

Other services:

Monday to Sunday:

10:00 a.m. to 5:00 p.m.

Stat Holidays:

Closed
1020 Marine Dr West Vancouver BC V7T 1B1 CA
Adoption fees*
*Fees vary by location and are subject to change without notice. Adoption fees are subject to PST (Provincial Sales Tax), which will be added at the time of adoption. All BC SPCA cat/kitten/dog/puppy/rabbit adoptions include a microchip and lifetime registration with the BC Pet Registry. Registration for lifetime protection is $45 for cats/kittens/dogs/puppies and $11.25 for rabbits, which will be added to the adoption fee. For more information please visit bcpetregistry.ca
Learn what's included in your adoption fee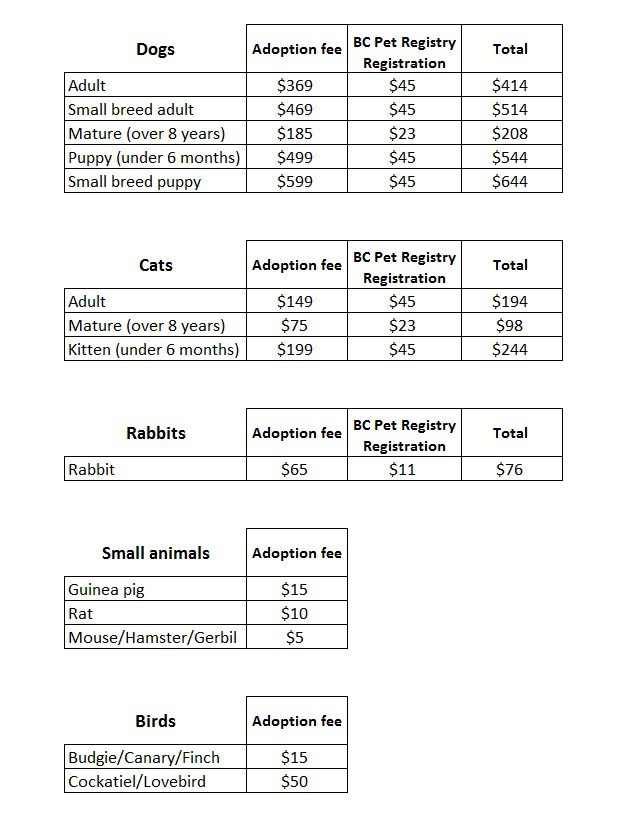 Welcome to the BC SPCA West Vancouver Branch. We are one of 44 BC SPCA locations across the province serving sick, neglected, abused and homeless animals. Whether you are looking to adopt a new furry friend into your family or would like to know more about how you can make difference for animals in our community, we are here to help. The BC SPCA is a not-for-profit organization which relies primarily on community donations to help animals in need. Please join us in the fight against animal cruelty!
Search adoptable animals available through our location >>
For more information about our work in the community, check out our most recent newsletter (PDF).
Other ways to help animals in need
Wish list
» Donate useful items to the shelter – check out our wish list (PDF) of odds and ends.
»Donate useful items to the shelter via our Amazon wish list!
Bottle Drive
» Help local animals in need by recycling your bottles & cans! ♥ It's easy, learn how (PDF).
Adopt Me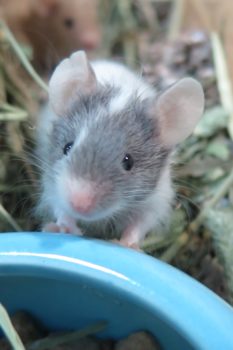 None of us at the West Van SPCA have been able to peel our eyes off of these ADORABLE little mouse babies! They are almost too cute to be real. These four mice came to us from the BC SPCA Victoria Branch and are ready to find their forever homes. If you haven't cared for mice before we always recommend doing some research prior to adoption to learn about proper care and housing. These busy little babes are sure to keep someone entertained while they zip around their enclosures enjoying fresh veggies and playing together.

If you are interested in adopting a pair of mice or just one, come by to say hello between 12-4 p.m. daily at the West Van BC SPCA.
Name:
Ghost
Age:
9 weeks old
Gender:
Male
Animal ID:
501755
Breed:
Domestic Mouse
Upcoming events
24th February 2020: BC SPCA Treat Week™
Pre-heat your ovens – it's Treat Week! Treat Week is your way to help BC's animals! Set up a fundraising page to collect donations, then give a treat of your choosing as thanks to the friends and family who donate to your page! While celebrating Treat Week February 24 – March 1 in your community, …
Continue reading "BC SPCA Treat Week™"
Learn More
23rd February 2020: Blues for Paws
Blues for Paws Join us on February 23, 2020 Fairview Pub 898 W Broadway, Vancouver Get Tickets Coming to the Fairview Pub is the 12th Annual "BLUES for PAWS" for the BC SPCA Hosted by ROB MONTGOMERY. Supporting the work of the BC SPCA's Charlie's Food Bank and Veterinary Clinic in Vancouver. Featuring …
Continue reading "Blues for Paws"
Learn More