Services offered:
Shelter, Takes surrendered animals, Adoptions, City kenneling, Takes in stray dogs, Takes in stray cats, Takes in stray domestic small pets, Community outreach
Email:
wvan@spca.bc.ca
Please note, due to the volume of emails received daily we may not be able to respond immediately. Should you need urgent assistance, please call.
Mailing address:
Ambleside Park
PO Box 91072
West Vancouver, B.C.
V7V 3N3
Serving the following communities:
West Vancouver
Hours of operation:
Hours of operation
Adoption & Animal Viewing:

Tuesday to Sunday:

12:00 p.m. to 3:00 p.m.

Other services:

Tuesday to Sunday:

10:00 a.m. to 5:00 p.m.

Monday:

Closed, except for by appointment

Stat Holidays:

Closed
Adoption fees*
*Fees vary by location and are subject to change without notice. Adoption fees are subject to PST (Provincial Sales Tax), which will be added at the time of adoption. All BC SPCA cat/kitten/dog/puppy/rabbit adoptions include a microchip and lifetime registration with the BC Pet Registry. Registration for lifetime protection is $45 for cats/kittens/dogs/puppies and $11.25 for rabbits, which will be added to the adoption fee. For more information please visit bcpetregistry.ca
Learn what's included in your adoption fee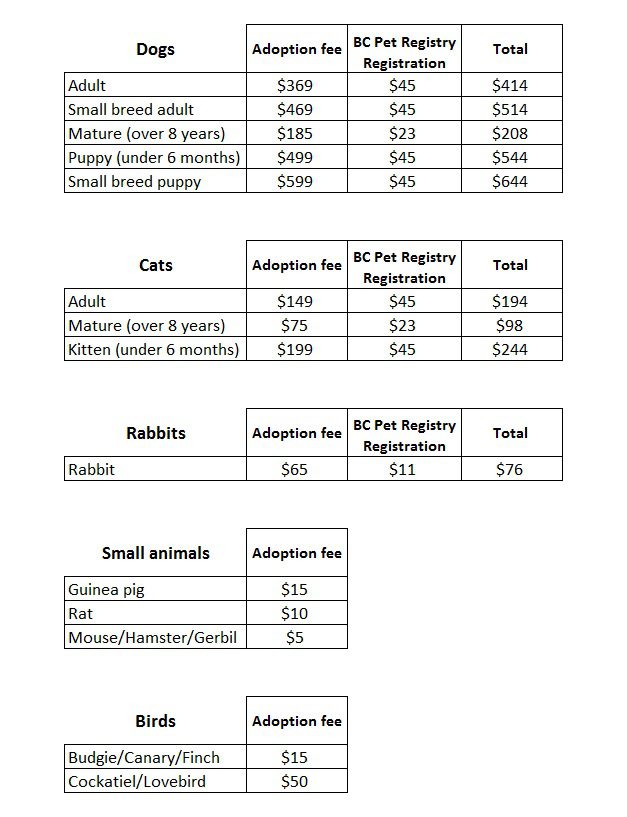 Welcome to the BC SPCA in West Vancouver. We are one of 42 BC SPCA locations across the province serving sick, neglected, abused and homeless animals. Whether you are looking to adopt a new furry friend into your family or would like to know more about how you can make difference for animals in our community, we are here to help. The BC SPCA is a not-for-profit organization which relies primarily on community donations to help animals in need. Please join us in the fight against animal cruelty!
Search adoptable animals available through our location >>
For more information about our work in the community, check out our most recent newsletter (PDF).
Other ways to help animals in need
Wish list
» Donate useful items to the shelter – check out our wish list (PDF) of odds and ends.
»Donate useful items to the shelter via our Amazon wish list!
Bottle Drive
» Help local animals in need by recycling your bottles & cans! ♥ It's easy, learn how (PDF).
Respectfully acknowledging that the BC SPCA in West Vancouver is located on the unceded traditional territory of the downriver hən̓q̓əmin̓əm̓ speaking peoples – ,xʷməθkʷəy̓əm (Musqueam), and səl̓ilwətaɁɬ (Tsleil-Waututh) Nations, and the Skwxwú7mesh-ulh Sníchim speaking peoples – Skwxwú7mesh Uxwumixw (Squamish) Nation whose historical relationships with the land continue to this day.
Adopt Me
Meet our sweet little Minnie,

We are so excited (and honestly a bit jealous) to see who scoops up this amazing girl. Minnie really is one of a kind. This sweet soul spent most of her life on a tether and had recently had puppies when she originally came into care. Minnie has already started to show us how much she's enjoying getting to be a regular dog, she started out a bit shy and quiet with us…but now Minnie has gained weight, she's learned to play with toys and enjoy herself on walks, and boy does she LOVE to cuddle. She is often found snoozing on top of staff during lunch breaks, or following behind us everywhere we go. Minnie has been around other dogs previously, but has made it clear she doesn't really want to live full time with another dog (and no cats please!). Because she has previously been a yard dog, Minnie is still learning the ins and outs of being encouraged to live in doors (new things can be scary! she recently learned she doesn't need to be afraid of our rotating fan, for example). Minnie can be reactive to certain dogs out on walks, but she's very easy to distract with treats and love to get her to keep moving along.
Name:
Minnie
Age:
2 year old
Gender:
Female
Animal ID:
550285
Breed:
American Staffordshire Terrier
Upcoming events
15th May 2023: Wildlife-in-Focus Photo Contest
The 2023 annual Wildlife-in-Focus photo contest runs May 15 to 30. Funds raised go towards food and medical care of wildlife in need at the BC SPCA's Wild ARC, which cares for thousands of injured and orphaned wild animals each year. Plus, your photos could be featured on BC SPCA merchandise, education brochures, advocacy campaigns, …
Continue reading "Wildlife-in-Focus Photo Contest"
Learn More