Phone:
(604) 922-4622
Emergency phone:
(604) 922-4622
(During operating hours)
(604) 879-7343
(Night 5 p.m. to 12 a.m.) After hours: call the West Vancouver Police Department
Address:
1020 Marine Dr West Vancouver BC V7T 1B1 CA
Services offered:
Shelter, Takes surrendered animals, Adoptions, Kids camps/programs offered, City kenneling, Takes in stray dogs, Takes in stray cats, Takes in stray domestic small pets
Email:
wvan@spca.bc.ca
Please note, due to the volume of emails received daily we may not be able to respond immediately. Should you need urgent assistance, please call.
Mailing address:
Ambleside Park
PO Box 91072
West Vancouver, B.C.
V7V 3N3
Serving the following communities:
West Vancouver
Hours of operation:
Adoption hours:

Monday to Sunday:

12:00 p.m. to 4:00 p.m.

Other services:

Monday to Sunday:

10:00 a.m. to 5:00 p.m.

Stat Holidays:

Closed
1020 Marine Dr, West Vancouver, BC V7T 1B1, Canada
Adoption fees*
*Fees subject to change without notice. All BC SPCA cat/kitten/dog/puppy/rabbit adoptions include a microchip and lifetime registration with the BC Pet Registry. Registration for lifetime protection is $45 for cats/kittens/dogs/puppies and $11.25 for rabbits, which will be added to the adoption fee. For more information please visit bcpetregistry.ca.
Learn what's included in your adoption fee
Welcome to the BC SPCA West Vancouver Branch. We are one of 44 BC SPCA locations across the province serving sick, neglected, abused and homeless animals. Whether you are looking to adopt a new furry friend into your family or would like to know more about how you can make difference for animals in our community, we are here to help. The BC SPCA is a not-for-profit organization which relies primarily on community donations to help animals in need. Please join us in the fight against animal cruelty!
Search adoptable animals available through our location >>
Other ways to help animals in need
Wish list
» Donate useful items to the shelter – check out our wish list (PDF) of odds and ends.
Bottle Drive
» Help local animals in need by recycling your bottles & cans! ♥ It's easy, learn how (PDF).
Adopt Me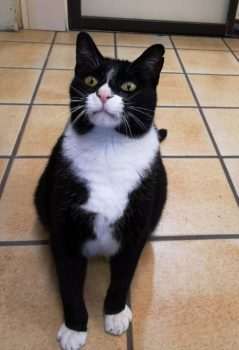 This big lovable guy is Hunter and he's looking to find himself a new home. Hunter loves to look out the window and watch what's going on outside. He's a very curious guy! Hunter may have overindulged over the holidays and has made a new year's resolution to loose a few pounds to get back down to a healthier weight. A dedicated owner is ideal for this guy. Hunter would enjoy having indoor/outdoor access, so a ground level home would be great for this adventurous guy! Hunter does not like other cats or dogs and must be the only animal in the home. Hunter loves to be pet and lounge, he would be the perfect cat to cuddle up and watch Netflix with!

If this sounds like the guy for you please come down to the shelter and meet him today!
Name:
Hunter
Age:
13 years young
Gender:
Male
Animal ID:
478069
Breed:
Domestic Short Hair
Upcoming events
2nd July 2019: Summer Camps
This summer, kids are invited to join us for a week of camp that's all about animals! Campers will take part in specially designed games and activities, hear from guest speakers and spend time with some animals in our care. Don't miss out on our special early bird pricing – register today! View our 2019 …
Continue reading "Summer Camps"
Learn More
5th May 2019: Flea Market – West Vancouver
Flea Market Join us on May 5, 2019 BC SPCA West Vancouver Branch  1020 Marine Dr, West Vancouver *South of the soccer field The BC SPCA West Vancouver Branch is holding our annual 'Flea' Market on Sunday, May 5. If you are 'itching' for something new (to you), would like to enjoy some baked …
Continue reading "Flea Market – West Vancouver"
Learn More