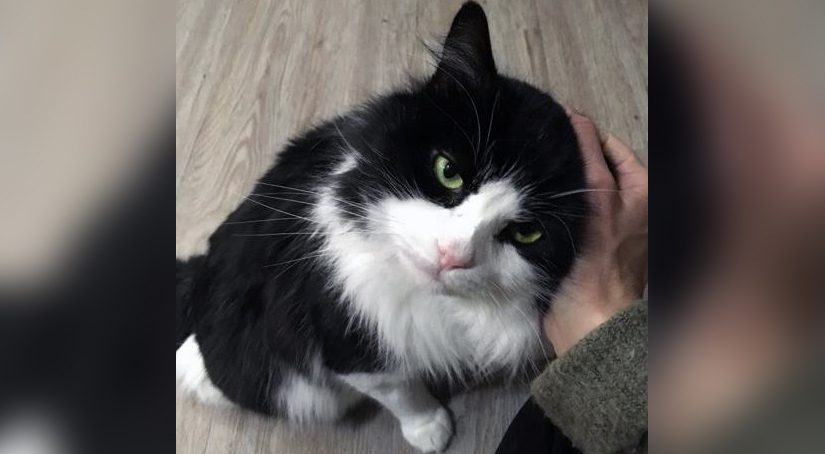 Kokanee came to the BC SPCA East Kootenay Branch as a stray. He had been wandering around a neighbourhood in Cranbrook for about six months before a concerned Good Samaritan was able to catch him.
This beautiful eight-year-old cat had severe anxiety and his teeth were in terrible shape. He went in for oral surgery and had one tooth extracted but his mental health issues were more difficult to treat.
Kokanee was terribly nervous and would hide when people came into the room. He would sit in a corner paralyzed with fear and was shutting down in the shelter environment. Branch staff decided it would be best if Kokanee went into a quiet and experienced foster home.
The foster worked with Kokanee every day for three months following a behaviour modification plan to help this extremely shy cat become more comfortable living with people. With time, patience and consistent support, Kokanee improved and found his forever family.
His new guardians understand that Kokanee, now called Fergus, will need more time to adjust to his new home. It took this kitty two days to leave his little tent bed.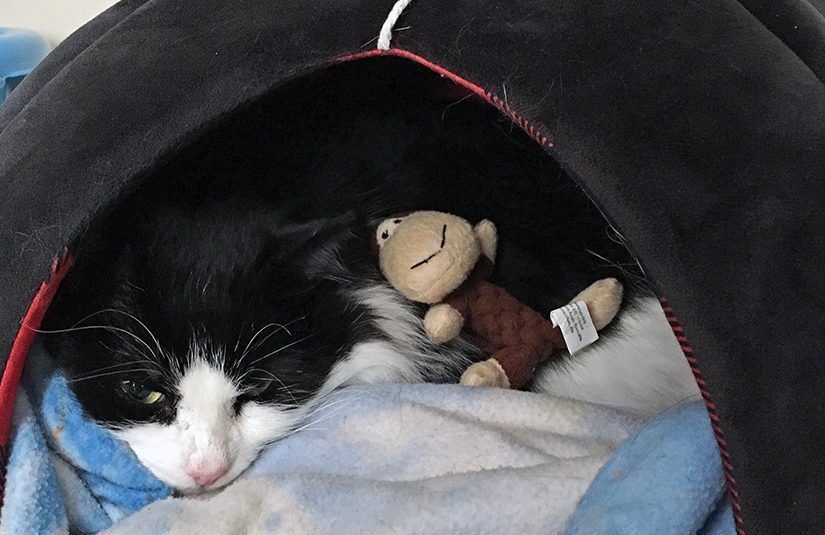 Once he came out of hiding, Fergus peed on their son's bed. Since then, Fergus has become familiar with the location of his litter box and has been using it consistently.
He was also caught scratching the carpet before being introduced to his new scratching post. That night, Fergus rubbed his face against their son's hand, which was hanging off the bed. This sweet cat had started to come out of his shell.
His progress was slow and not without setbacks. One day, Fergus spent over 12 hours wedged between a corner cupboard and the wall. His family put out small dishes of food and water to fit in the small space and make sure he was comfortable.
Eventually, they fished him out and he went to lay down in his litter box. His kind guardians put on some soothing classical music and gave him some space. When they checked on him later he'd jumped on their son's bed and was making himself at home on the pillow.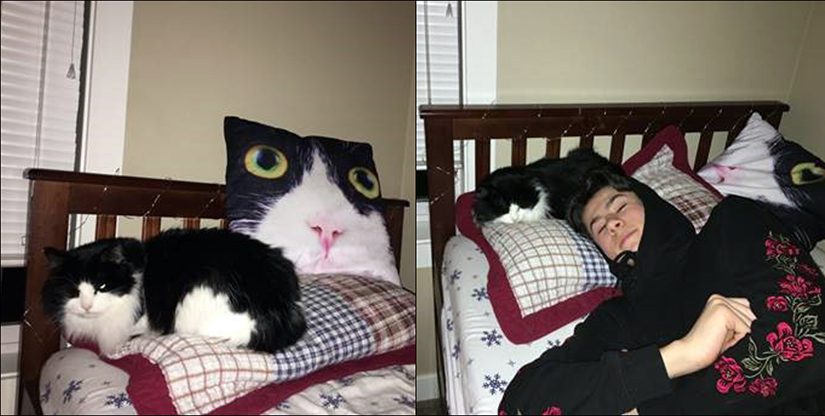 Fergus now accepts chin scratches and no longer shivers with anxiety when he's receiving pets. "I then sat on the floor and he was rubbing all around me! He wouldn't stop and he actually laid down and exposed his belly and rolled around the floor beside me," says his new mom. "We're really pleasantly surprised with the 180 degree turn from hiding in a corner to being out in the open and showing affection. He's so gentle and sweet."
Fergus is being gradually introduced to the resident cat Bode, who is not showing signs of being aggressive towards Fergus. The family is being careful to supervise their brief interactions and are using a Feliway diffuser to decrease the tension between the two cats. With time, they are confident that the two cats will become the best of friends.
It took this handsome cat several months to overcome his fears and start trusting people but SPCA staff and volunteer foster worked tirelessly to help him.
He expresses his gratitude with his quiet affectionate gestures and his new guardians are so happy to have him as part of their family.