Jak was lucky to find a family that valued his unique personality. This beautiful white cat with green eyes was adopted then returned to the Vancouver SPCA three times.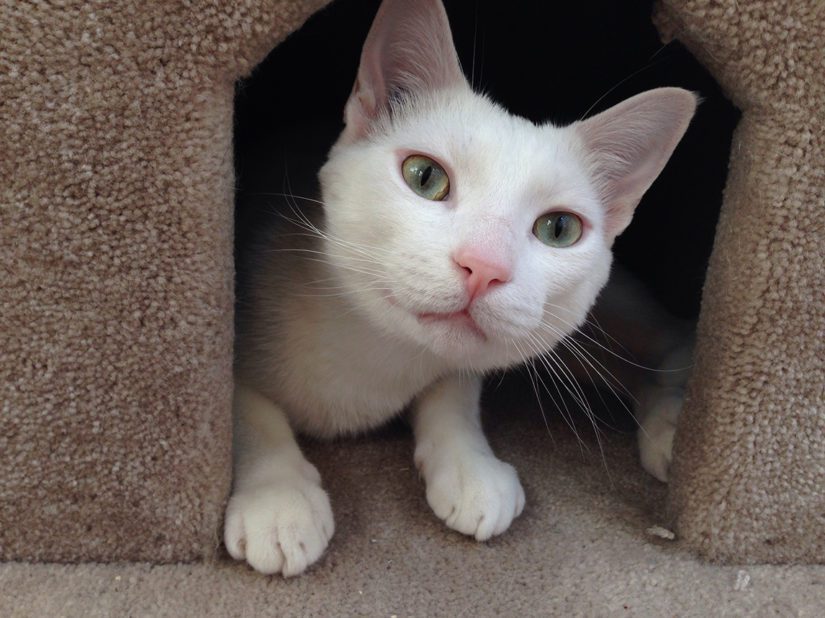 "He was quite vocal. You could just hear him all the way down the hallway into the courtyard," says SPCA volunteer Nancy van Aggelen. The high-energy feline was hard of hearing, extremely loud and not suited for apartment living. One time he was adopted and abandoned outside the Vancouver branch in his carrier after a neighbour complained that Jak was making too much noise. It was 10 p.m. at night.
Staff and volunteers began harness training the cat and taking him for walks. It was during one of these training sessions that Jak met SPCA staff member Danielle Sharp. "They were telling me how hard it had been to find him a home because he was big, loud and smart," Sharp says. She and her husband decided to adopt him.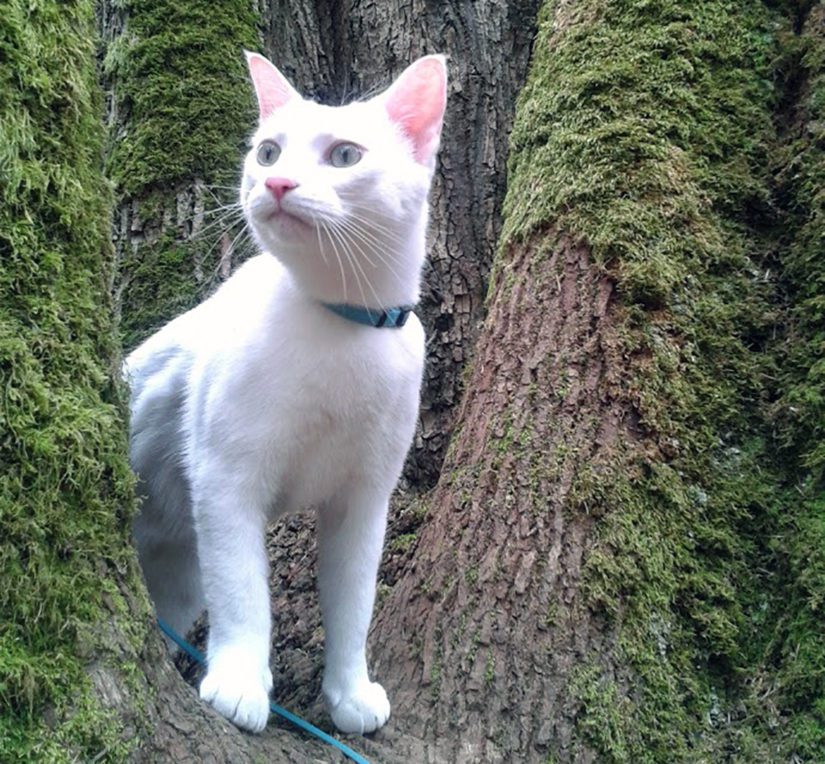 Jak was taken for regular walks on his harness but he still had enough energy to chase the couple upstairs and attack their feet. Her husband's solution was to "burrito-wrap" Jak with a blanket and hug him tightly until the cat relaxed and started purring. "It was kind of a breakthrough moment for us. Jak was just like 'oh this is nice. I like this.' He really started to change,'" says Sharp.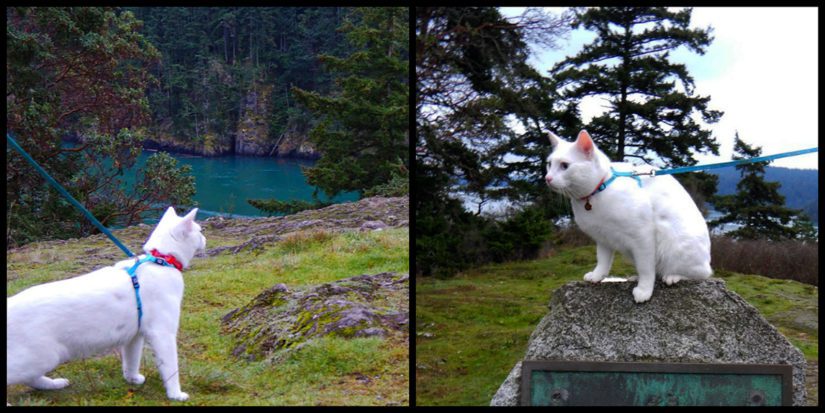 She knew their cat had been through a lot and this was his fourth home before the age of two. Jak came from a small shelter in Fort St. James to the Prince George SPCA before travelling to Vancouver through the BC SPCA Drive for Lives program. "He likes being outside, he likes stimulation, he likes people and he wasn't getting that. I think when my husband did that it really showed him that 'oh maybe these people really like me.'"
Jak goes camping with his family and has explored trails in B.C. and Washington State. One time, he crawled out of their car into the border guard box to the staff's delight. Fascinated tourists would take pictures of Jak perched on the cherry tree branches at Queen Elizabeth Park.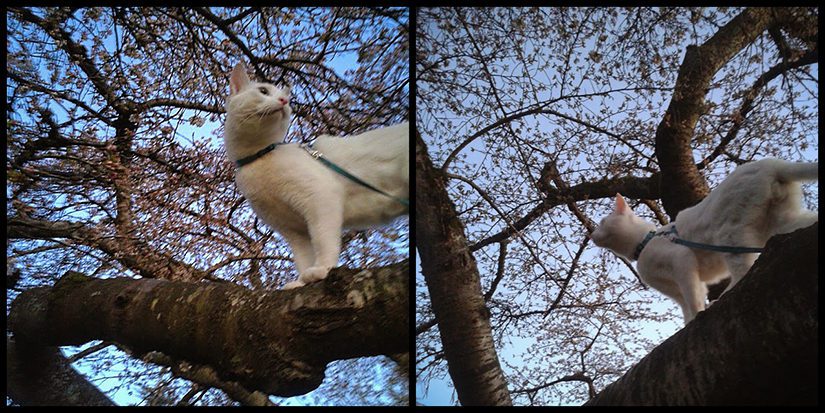 He is afraid of dogs and will alert his guardians to pick him up when encountering even the smallest of canines. "A lovely little teacup Chihuahua, the tiniest dog I've ever seen in my life, came up to him and he was like 'oh my god it's going to eat me!' It didn't. He's 16 pounds that dog was like two pounds," she says.
Jak's life continued to change for the better after his guardians adopted a small grey kitten named Pixel, who became his best friend, playmate and admiring little sister. "As far as Pixel is concerned Jak can do no wrong. He is the sun, moon, stars and earth beneath her paws," she says.
His next adventure would be a stressful move across the country to Halifax but Jak quickly settled into his new home once he realized this family would never leave him behind. He continues to go hiking in Nova Scotia, enjoys playing in the shower on hot summer days, drinking water straight from the tap, crawling under blankets and sleeping. Sharp says he's become a bit of a lap cat and "he now puts his paws on our knees asking to be picked up and cuddled."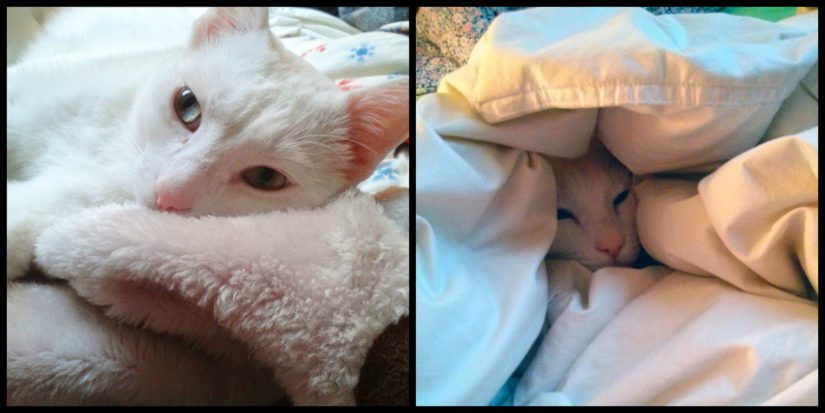 Jak will be seven-years-old in August and she says giving him the love and adventure that he craves has made a huge difference. "Those moments of 'oh you like me, oh you're not leaving me behind, oh you're taking me somewhere new and doing what I'm actually interested in, have changed him."
Want to give your cat some safe outdoor time?
All cats need a collar and identification
Only let your cat out during the day
Shop our online store to buy your own kitty harness!