Daisy was surrendered to the SPCA as a result of a cruelty investigation. She came from a cluttered home where she had been living with two aggressive adult dogs and her three littermates. An animal protection officer found Daisy and her siblings living in their own urine and feces inside a wire crate that was much too small for them. All of the puppies were underweight and their ribs were clearly visible.
When Daisy arrived at the BC SPCA Maple Ridge Branch in early November she had a Body Condition Score of 2, which is considered very thin. Staff gave this timid pup a bath and decided that she would be placed in a foster home because she was fearful of the other dogs in care.
Daisy slowly began to gain weight in foster care and started to come out of her shell. With treats and encouragement, she began to lose her fear of meeting other dogs. Daisy learned that not all dogs would be scary and aggressive. Her tail, which had stayed tucked between her legs, began to lift and eventually start wagging with happiness.
Her cute little face and sweet nature caught the eye of a family that had an older dog named Dexter, who could help Daisy blossom into a well-adjusted adult. The family fostered Daisy, quickly fell in love with her and decided to adopt this little puppy.
Daisy is still a bit timid but her new family says she has gradually started to come out of her shell.
"She is loving having her big fur brother Dexter to play with and to snuggle up with," says Daisy's new dad Steve Brown. "Things aren't so scary for her when she's with her fur brother. She's still hopeful that our old crotchety cat will one day play with her but we all know that will never happen."
Now, Daisy enjoys playing tug of war with Dexter, going for car rides and chasing a ball together in the yard. "She enjoys going for walks and LOVES running around the backyard playing chase with Dexter," says Brown. "She loves to chew on absolutely everything and loves to dig."
Daisy is learning new things every day. She sits, shakes a paw and is learning 'lay down.' She's also starting to get the concept of letting her family know when she needs to go outside. "Daisy is a great addition to the family. We all love her very much," he says.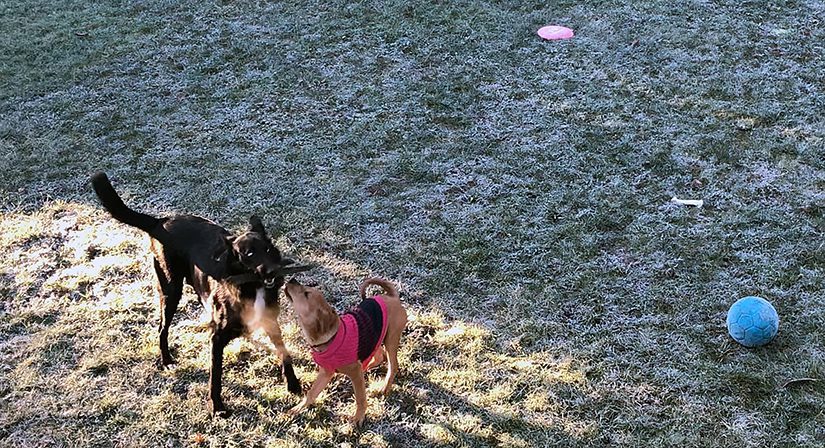 This adorable little puppy is only five months old but is on her way to becoming a gentle and well-trained companion.
Now, Daisy is looking forward to enjoying her first Christmas with her new family and all the wonderful years ahead.