The city of Dawson Creek was honoured with the BC SPCA's Humane Community Award at the society's annual awards ceremony, held in Richmond on May 4. The award was presented in gratitude and recognition of the city's progressive approach to humane welfare for animals.
"It takes a strong community effort to address the suffering of animals, and the mayor and council of Dawson Creek have shown outstanding leadership in working with the BC SPCA and other partners to create a better life for animals in their region," says Craig Daniell, chief executive officer for the BC SPCA.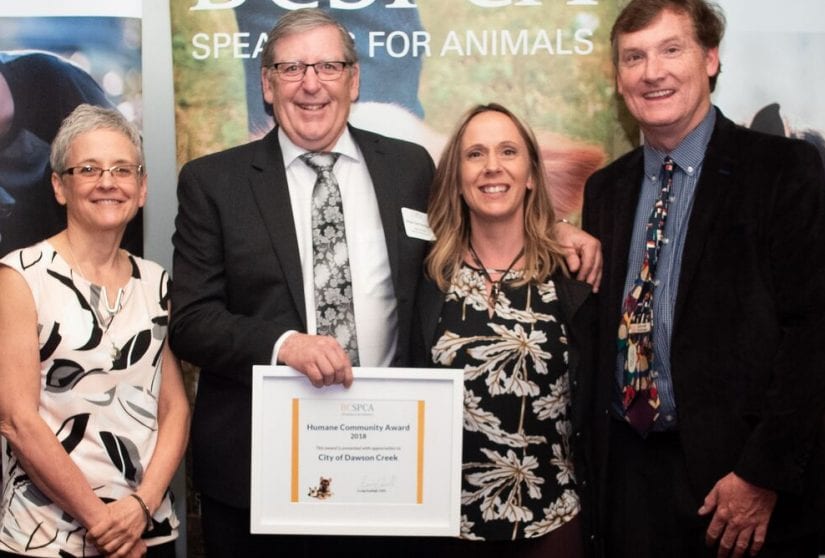 He notes that in 2015, the city introduced an animal responsibility bylaw designed to address cat overpopulation by encouraging spay/neuter and permanent identification.
"The city's mandatory cat licensing bylaw has also made a significant impact," says Daniell. "In 2017 nearly 800 cats were licensed – more than the number of dogs licensed that same year – which has enabled the BC SPCA's South Peace Branch to increase the return rate of lost cats to their guardians from 10 to 40 per cent."
Licensing fees are $5 for a fixed cat and $200 for an unfixed cat. Thanks to the generous support of PetSmart Charities™ of Canada the South Peace SPCA has been able to provide free spay/neuter surgeries to the city's residents. The grant program led to a significant increase in bylaw compliance. In 2015, 73 per cent of kittens coming into the care of the South Peace Branch came from the city of Dawson Creek. This number decreased to 31 per cent last year.
"The leadership demonstrated by the city of Dawson Creek has made a life-saving difference for animals in their community and is a model for other communities across B.C.," says Daniells.