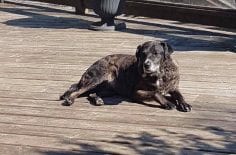 Beau came under the care of the BC SPCA North Peace Branch in the summer of 2016. He was about seven years old and ready to find his new forever home.
This silly guy was very easygoing and absolutely loved being around people. But he had grown accustomed to having lots of company around and got anxious when left alone for long periods of time.
A few weeks after arriving, Beau was transferred to the BC SPCA South Peace Branch and then the BC SPCA Vancouver Branch a month later. Everyone who came in contact with Beau fell for his charms, and we knew we were getting closer to finding a home that would be the perfect fit for him.
Beau was looking for patient guardians that would work with him in building up his confidence, as he got a bit nervous with the hustle and bustle of city-life. That being said he liked to keep busy playing and exercising, especially going for regular walks to burn off some of his abundant energy.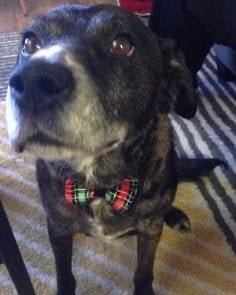 In August 2016, even while undergoing a few health issues, he found his new forever family. Once Beau received the 'all clear' on his health, he was ready to go home and start his new life.
Beau's new family has helped him overcome his separation anxiety, and now he is a happy, trusting pup who keeps them pretty busy! His family shared the following update:
He is part of a walking pack four to five days a week. On his walks he is  often paired with younger pups so that he can show them the ropes. If Beau could get a walk every two hours I think he would. He loves being outside and smelling around. He also hikes with us once a week and loves resting on one of his three dog beds when he is tired.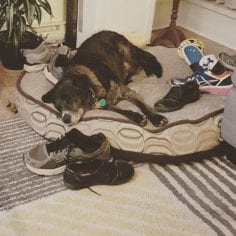 Beau also loves shoes…he likes to collect them around his bed. He also brings us one of our shoes when he wants to go outside. He is a sweetheart.
We see so many more sunrises and sunsets because of him. We are very grateful to have him as part of our family. Thank you for letting us give Beau a second chance.
It is fantastic to hear how well Beau is settling in! It sounds like he has been feeling much more confident in himself and getting all the exercise he enjoys.
Thank you so much for putting in the time to make him comfortable, gain his trust, and raise him to be the best doggie he can be. Another tail is wagging, because you chose adoption as your first option.