Do you have a breakaway collar for your cat?
Whether your feline prefers to be indoors or out; whether he's a kitten or a full-grown adult, there are several reasons to ensure your pet wears a collar that will unfasten when something pulls on it with force.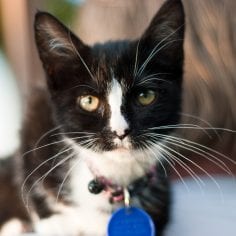 "Even if you think 'my cat never goes outdoors' it's best to be safe just in case – you never know when someone might leave a window open or your cat could escape out the door with an unexpected delivery, or if something frightens him, like fireworks," says BC SPCA manager of animal welfare Kim Monteith.
"That's why we always recommend your pets have permanent identification, such as a microchip or ear tattoo as well as a collar with an ID tag with contact information, to help your furry family members find their way home in case they're lost."
Reasons to use breakaway collars on cats:
Safety first: A breakaway collar ensures if your cat gets her collar stuck or caught on something that entangles her, a breakaway collar keeps her safe from injury, choking or worse
If you allow your cat outside the home, even supervised, a breakaway collar helps to keep them from hurting themselves if it gets stuck on a tree branch or fence or other object
Frisky cats and playful kittens are curious and active – breakaway collars help them explore and play safely
If your cat returns home, the cost of replacing the collar (should she lose it) will be much less than the injury or even the loss of your beloved pet
"Breakaway collars are usually adjustable, so make sure your cat's collar fits him well without being too tight around his neck," Monteith says.
"Sometimes cats don't like to wear collars, but it's for their safety and there are ways we can teach them that wearing a collar is a fun, positive thing to do."
The BC SPCA offers breakaway collars in its online store – find the one that best fits your feline today.