As recent newlyweds, adopting a cat seemed like the natural next step for Lucy and Jake Smith back in November 2019. It was love at first sight when they spotted Ollie on the BC SPCA's website and were looking forward to scooping him up at an adoption event at the SPCA in Vancouver. Little did they realize that he would be part of a package deal along with his sister Ozella.
"When we got into the cat room, we saw that he was still available, which was probably because he came as a pair," says Lucy. "We saw these two little three-month-old fuzzies cuddled together in their cage and our hearts melted. We thought, we have the space, we have the means, why not get two?"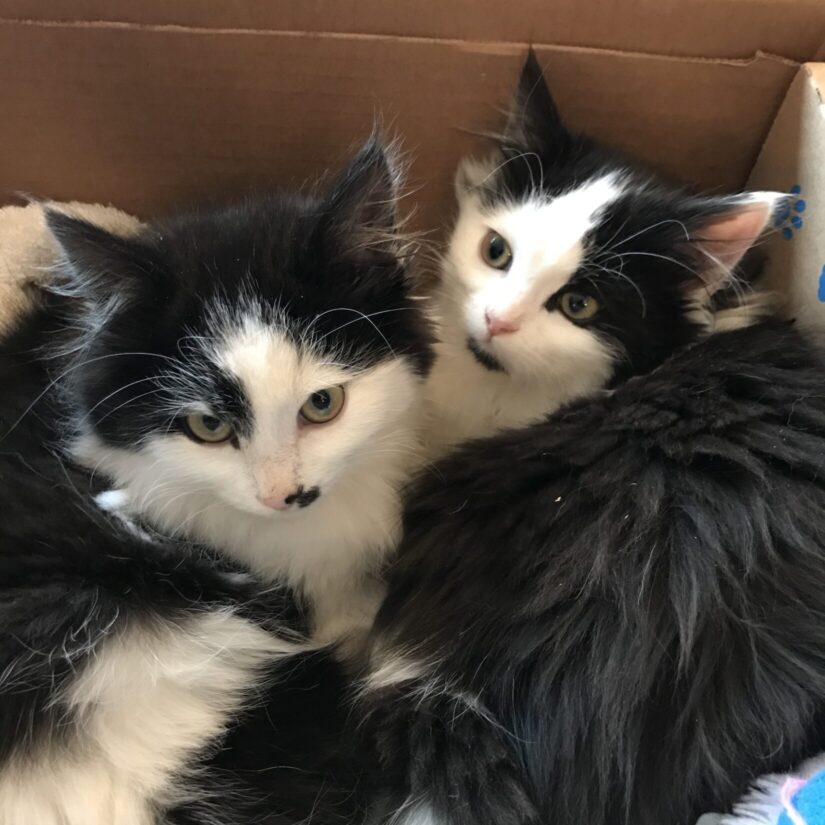 According to Lucy, from the moment they brought them home it was obvious how bonded the two siblings were.
"Ollie was definitely Ozella's protector," she says. "He literally was sitting on her when we opened up the box which seemed very protective. At first when they would hide behind the toilet from us, he would always be on top of her and hiss at us."
Within no time, however, the two adapted well to their new home. Lucy says it's been "amazing" to see how the cats' personalities have evolved and shifted over the last year.
"Ozie seemed really shy at first, but in retrospect I think she's just more independent. Ollie comes and demands pats from us whenever we get home, while she observes from the cat tree or sofa. She's more curious and exploratory. She likes to hunt bugs. Ollie is a big softie and loves to cuddle."
The siblings enjoy playing together as much as they love cuddling together.
"It's just the sweetest thing," says Lucy. "They go everywhere together too. If Ollie is feeling adventurous with Ozie, the sight of their fuzzy little tails next to each other as they walk away together is just so funny.
Since quarantine, the foursome has made the most out of their bonding time as now Lucy and her husband, both classical musicians, have been home more than ever.
"It's been so lifesaving having them," says Lucy. "We're around to give them attention all the time, and they make us laugh multiple times a day, and cuddle with us when we're feeling low. We couldn't have imagined how perfect the timing was when we got them, and can't imagine quarantine without them."
While adopting a bonded pair was certainly a surprise, Lucy says she can't imagine having it any other way.
"When we first got them at three months, the hardest thing to do was separate them to bring them to their respective vet appointments. But after that, them being together was so helpful," she says. "We never felt too bad leaving them while we went to work or to run errands because we knew they had each other so they wouldn't be scared. When we have to take them somewhere, we put them together in a big carrier so they can feel safe together."
Like everyone, Lucy and Jake are laying low for the foreseeable future but they do have some fun plans for Valentine's Day that will include Ollie and Ozie (or O & O as she calls them).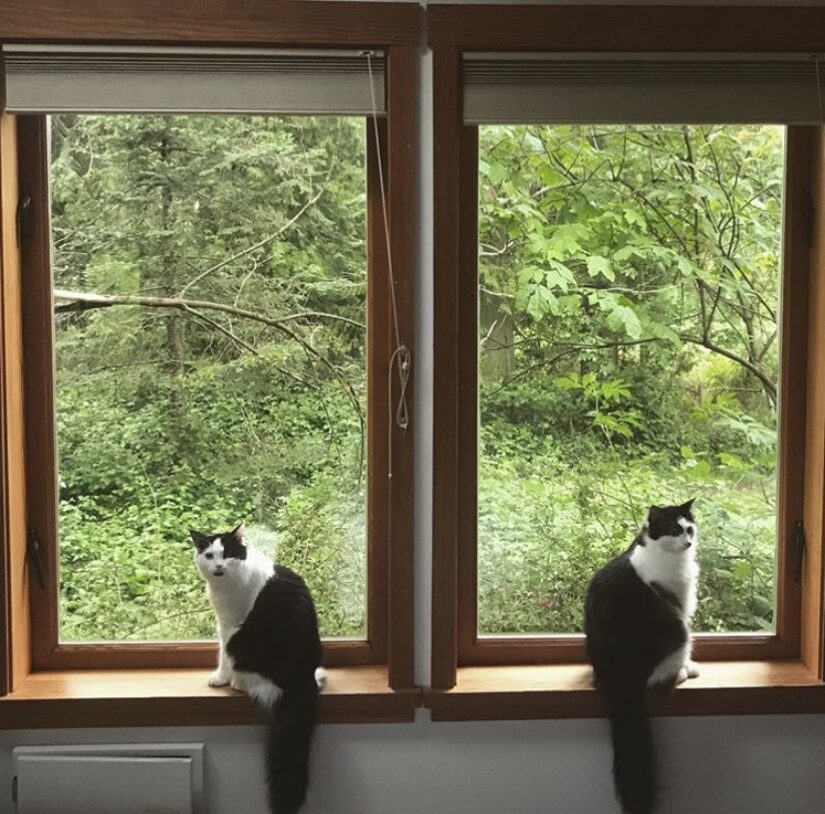 "During quarantine, Jake and I have been buying oysters to shuck at home for special occasions and as you can imagine, O & O are quite into 'helping' us with the cleanup."
More like this 
Morty and Cairo are home for the holidays
Jojo the cat offers companionship to guardian during COVID-19 pandemic
Home for the holidays: Merlin spreads good cheer for his guardian this Christmas