When the BC SPCA's Wild Animal Rehabilitation Centre (ARC) rescued a Swainson's Thrush this past week, the shy and secretive songbird could not have known it was the 40,000th wild patient treated by the facility, which celebrated its 20th anniversary this summer.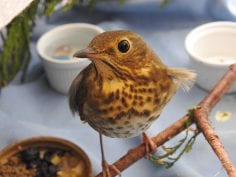 Now, the Swainson's Thrush is the face of thousands of wild animals the BC SPCA Wild ARC has helped over the past two decades, since opening its doors in 1997. Heard more often than seen, this thrush species best known for its vocal flute-like song and is similar in body size to its cousin, the more commonly known American Robin.
"During our first year of operation, Wild ARC admitted just over 1,500 wild patients. Last year, we treated 3,013 animals," says Andrea Wallace, BC SPCA Wild ARC manager. "Our numbers are increasing because more people know we are here to help but also because of urbanization into wildlife areas, which means human-wildlife interactions are increasingly common."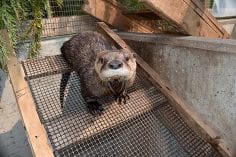 Most of the animals who come into Wild ARC's care – more than 80 per cent – need help because of human activity, including collisions with vehicles, windows or buildings, poor pest control methods, entanglement in fencing and netting, or capture by free-roaming outdoor cats and off-leash dogs.
Situations like these can cause the animal to be injured or orphaned, necessitating Wild ARC's specialized care and rehabilitation, and in successful cases, the healed patient being released back into the wild.
"On average, about 70 per cent of our patients are birds, with the remaining 30 per cent being mammals, and just a few reptiles and amphibians each year" Wallace says. "Since 1997, we've treated 147 bird species, 25 mammal species and eight reptile and amphibian species."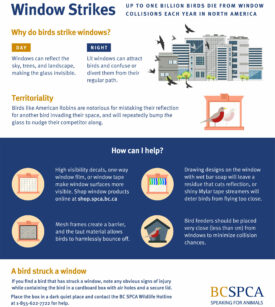 With the 40,000th patient having now arrived, Wallace says the Swainson's Thrush highlights the important role Wild ARC plays in helping the region's most vulnerable wild animals. In the Swainson's Thrush's case, it suffered trauma from an impact with a window.
Such collisions occur when the reflection of nearby trees are projected by a window and birds cannot see the difference. This can happen during migration or with resident birds at feeders that are set up too far from buildings, which allow birds to pick up speed after taking off.
Wallace recommends feeders be placed within three feet of a structure – or even affixed to the window – to prevent birds from hitting windows with such force. With fall approaching and the change of daylight, other migrating birds will also be at high risk of hitting reflections on windows; UV window decals and strips are highly recommended to prevent these collisions.
Wild Arc is not open to the public to ensure all patients can recover in a stress-free environment and requires specialized skill sets to operate.
"In addition to requiring permits from the provincial and federal governments to rehabilitate wildlife, our rehabilitators must be highly skilled to provide such specialized, ongoing care for species as small as a hummingbird to as large as a deer," Wallace notes. "We also have more than 250 active volunteers, who last year alone logged more than 25,000 volunteer hours transporting, caring, fundraising and raising awareness for wild animals in need."
The BC SPCA Wild ARC serves all of Southern Vancouver Island and the Gulf islands, even taking in some animals from mid and north Island.
"The facility plays a critical role in wildlife welfare and education for the entire community, and is a model facility for training and innovation in the professional field of wildlife rehabilitation" says Dr. Sara Dubois, BC SPCA chief scientific officer and Wild ARC volunteer since 1998.
"It is a gem within the provincial organization and one of best facilities in Canada and we are very proud to be celebrating our 20th anniversary this year thanks to the ongoing support of the community."
For more information, visit spca.bc.ca.