There are more than a million reasons for the BC SPCA to thank all the people who participated in this year's Million Acts of Kindness (MAK) movement. As the end of 2015 nears, the society is celebrating the success of the campaign, which was launched in February to help celebrate the BC SPCA's 120th anniversary of helping the province's companion, farm and wild animals. Each week, a featured act of kindness was highlighted on the movement's website, millionacts.ca, and MAK supporters jumped on the chance to spread kindness.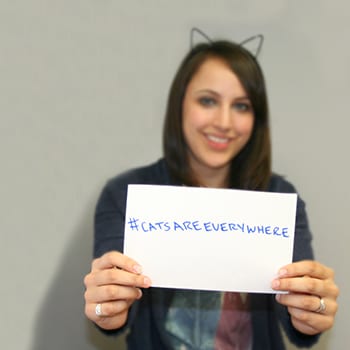 "We are thrilled at how many animal lovers of all ages embraced the chance to carry out acts of kindness," says Lorie Chortyk, BC SPCA general manager, community relations. "From signing a pledge to never leave a pet in a hot car to spreading the message about cat overpopulation and the importance of spaying or neutering your pets, we feel the MAK movement has helped improve the lives of animals across the province."
Many valuable animal welfare messages were promoted and shared throughout the campaign, Chortyk notes, from purchasing SPCA Certified food products to programming the BC SPCA's animal cruelty hotline, 1-855-622-7722, into personal cellphones.
Pledges proved to be popular acts of kindness, with people pledging to purchase chocolate rabbits instead of real ones at Easter, and promising to pay attention to their pet's needs during holidays like Halloween, which can be frightening for our furry friends. Extra donations poured in because of the MAK movement – being a non-profit organization, the society relies on public donations to help the province's most vulnerable animas, and nearly 4,000 volunteers logged more than 100,000 volunteer hours as well.
"We learned that kindness counts – even one small act can mean the world to one animal who is rescued from an abuse, neglect or abandonment," Chortyk says. "And kindness can be contagious! Completing acts of kindness can be catching, and we can only hope that the movement inspired participants to continue practicing kindness in their everyday lives."
One way people can continue their kindness is by signing up for a BC SPCA membership, she adds. Members help direct the mission, vision and activities of the society through the election of volunteer leaders, and are dedicated to ensuring the safety, protection and care of animals in British Columbia. Visit spca.bc.ca/membership for more information.
The British Columbia Society for the Prevention of Cruelty to Animals is a not-for-profit organization reliant on public donations. Our mission is to protect and enhance the quality of life for domestic, farm and wild animals in B.C.