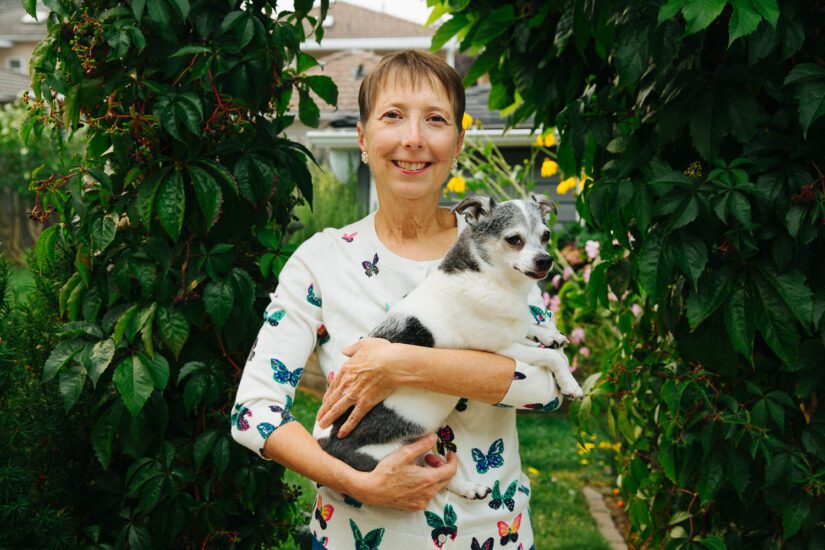 For BC SPCA's 125th anniversary, we're highlighting long-serving members of our community. We talked with volunteer Shawna Willan from the Vancouver BC SPCA location about her experience volunteering!
---
---
How long have you been involved with the BC SPCA?
I started supporting in 1986. It was the first Paws for Cause. I walked in it; I didn't have a dog at the time, but a lovely couple had a pair of dogs with them and they let me walk one of their dogs. I've been fundraising ever since for Paws for the Cause and supporting through donations. And when I retired in 2007 I started volunteering at the Vancouver shelter.
What do you like best about being part of the SPCA?
It's about giving love and making connections with the animals, and being there for them during that transition and helping them find their forever home.
Why do you think the SPCA's work matters?
I have seen so many animals come through the shelter that were either from cruelty cases or needed medical attention from some sort of accident and every single one of them is looked after and gets care and love from the staff and volunteers. It's the love and care that's all around, and ultimately the wonderful people who come in and adopt these animals and give them homes.

What are some of the biggest achievements for animals you've seen at the BC SPCA?
There's been quite a few things over the years. There's a program called Drive for Lives in which animals are transported from more remote shelters down to the Vancouver branch. Some of these animals had been in these shelters for a long period of time and they come down to Vancouver and they are adopted right away. It's so great to see.
There was another change where cages were made larger to give cats more room and that made a huge difference for the cats and their well-being. And it helped them get adopted as well. There's always been a huge focus on welfare for all the animals in the shelter.
Another issue that the BC SPCA advocated for was banning fireworks here in Vancouver, and that was something, to me, was overdue. A lot of animals, both pets and wildlife, are petrified to be outside on Halloween. So, I was so grateful for that happening.
What do you hope for the next 125 years for the BC SPCA?
I would love to see more focus on not only domesticated animals but on farm animals and wild animals because all animals matter. While our pets are near and dear to our hearts, the lives of all animals are important. I've noticed there has been a shift recently, so I would love to see more of that in the future.
---