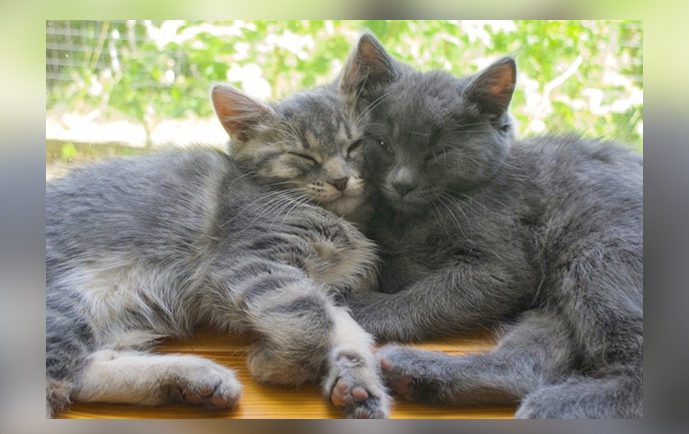 Life is always better with a best friend by your side. Someone to snuggle up with and doze in the sunshine by the window. A playmate to run with and look to for comfort when you're scared or hurt. Another little soul to shower with  lots of hugs and kisses.
Animals form deep bonds with us but they also find strength in the relationships they form with other animals. That's why the BC SPCA never separates animals that clearly love being together. These bonded pairs sometimes take longer to find their forever homes but bring twice the love into our lives.
Love comes in all shapes and sizes! Take a look at some of the bonded pairs currently available for adoption: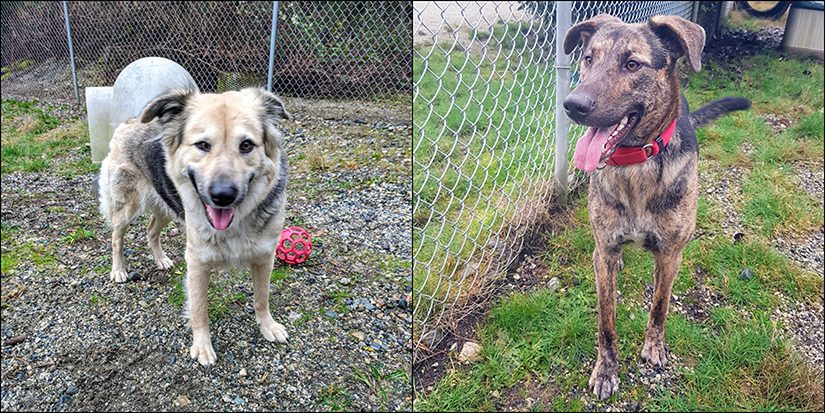 Petal is a lovely dog with a beautiful personality. Her and her best friend, Rhodo, came to the BC SPCA after being reportedly abandoned after tenants moved away.
Petal can be a little nervous in new situations and new people but she warms up quickly. She is extremely bonded with Rhodo so they are looking for a forever home together.
They love running and playing in the yard together and they sleep together at night.
If you think we could fit these two wonderful dogs into your life, please contact the Sunshine Coast SPCA.
Lovely Leo and adorable Astro are two shy but playful young kitties. They were just surrendered and are feeling a wee bit anxious. They both would do well in a home that is on the quieter side.
Leo sadly did have a urinary blockage previously and does require a urinary diet only purchased through a veterinarian. For convenience both cats can eat the same diet. Plenty of water in Leo's diet is also really help to prevent any further issues as well as keeping him slim and trim!
Astro is the shyer one and tends to hide in new environments, both boys would do well starting out in a small space. They are sure to blossom in no time!
Luigi came into the shelter with his buddy Mario and now this adorable duo are looking for a new home together. Luigi is a pretty timid boy who takes time to warm up to new people. A quiet and patient new home would be ideal for this furry little dude and his partner Mario.
Guinea pigs can make wonderful pets so it is definitely worth taking the time to become friends! For more information please contact the staff at the Vernon & District SPCA.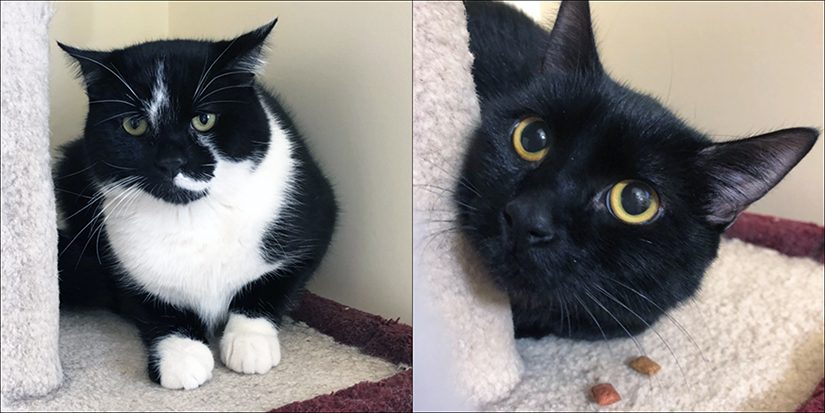 Meet Wanda! This pretty lady is bonded to her brother Cosmo. They are looking for a quiet home with no young children or other animals.
Wanda and Cosmo are very sensitive cats and are looking for an understanding owner who has had experience with fearful cats before. Once they are comfortable they come out of their shell beautifully!
Wanda and Cosmo are looking for a special home to call their own, they deserve a second chance at love
Zag would like to find a new family with his sister, Echo.
These youngsters have a ton of energy and enjoy romping around their room or snuggling in a large bunny pile.
Visit the link below or speak with staff for more information on rabbit care. Stop by the Campbell River BC SPCA from noon to 4:30 p.m. to say hello to Zag!
Looking for more single and bonded animals? Check out the SPCA adoption page.