Phone:
(604) 291-7201
Emergency phone:
(604) 291-7201
(Press 1, during operating hours)
(604) 879-7343
(Night 5 p.m. to 12 a.m.) After hours: call the Burnaby RCMP
Cruelty Report and Wildlife Support Line (Toll free):
1-855-622-7722
Address:
3202 Norland Avenue Burnaby BC V5B 3A6 CA
Services offered:
Shelter, Takes surrendered animals, Adoptions, City animal control, Takes in stray dogs, Takes in stray cats, Takes in stray domestic small pets
Email:
burnaby@spca.bc.ca
Please note, due to the volume of emails received daily we may not be able to respond immediately. Should you need urgent assistance, please call.
Mailing address:
Physical address: 3202 Norland Avenue Burnaby BC V5B 3A6 CA
Phone: (604) 291-7201
Please call for hours of operation.
Serving the following communities:
Burnaby and area.
Hours of operation:
Adoption hours:

Monday to Friday:

12 to 5:00 p.m.

Saturday and Sunday:

12 to 4:00 p.m.

Other services:

Monday to Friday:

9:00 a.m. to 6:00 p.m.

Saturday and Sunday:

9:00 a.m. to 5:00 p.m.

Stat Holidays:

Closed
3202 Norland Avenue Burnaby BC V5B 3A6 CA
Adoption fees*
*Fees vary by location and are subject to change without notice. Adoption fees are subject to PST (Provincial Sales Tax), which will be added at the time of adoption. All BC SPCA cat/kitten/dog/puppy/rabbit adoptions include a microchip and lifetime registration with the BC Pet Registry. Registration for lifetime protection is $45 for cats/kittens/dogs/puppies and $11.25 for rabbits, which will be added to the adoption fee. For more information please visit bcpetregistry.ca
Learn what's included in your adoption fee

Welcome to the BC SPCA Burnaby Branch. We are one of 44 BC SPCA locations across the province serving sick, neglected, abused and homeless animals. Whether you are looking to adopt a new furry friend into your family or would like to know more about how you can make difference for animals in our community, we are here to help. The BC SPCA is a not-for-profit organization which relies primarily on community donations to help animals in need. Please join us in the fight against animal cruelty!
Search adoptable animals available through this location >>
Check out our newsletter to learn more about our work in the community (PDF) >>
Adopt Me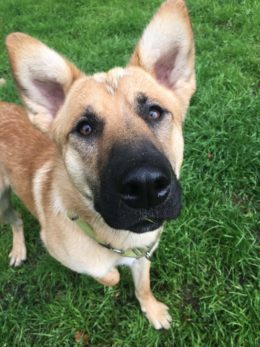 Meet Walter! This special guy is looking for a second chance at love, and a home to help him fulfill his potential. Walter was found as a stray, but was never claimed. A home with lots of time to give and an owner willing to help him navigate through life are ideal. This is because Walter is deaf, but he doesn't let it stop him.

He's full of puppy fun, and has never walked on a leash. The young lad is on the lookout for a flexible, confident and willing owner to help him, and preferably a home with a backyard.

He will need ongoing training in the home, and desensitization to leashes, collars and walking, but please don't hesitate to ask the staff at the Burnaby SPCA for further details on his training. Walter will need slow introductions to new people, places, and things. He's demonstrated OCD behaviour in light and shadow chasing, and this is why he will do well with an experienced owner with tremendous patience.

If you think you can provide a committed home to help him on his journey to becoming a 'real' dog, please come down and meet him today!
Name:
Walter
Age:
9 Months 3 Weeks (approx)
Gender:
Male
Animal ID:
491077
Breed:
Dog - German Shepherd
Upcoming events
23rd February 2020: Blues for Paws
Blues for Paws Join us on February 23, 2020 Fairview Pub 898 W Broadway, Vancouver Get Tickets We hope you'll join us for some superb entertainment hosted by Rob Montgomery at the Fairview Pub on Feb 23, 2020. Performances by musicians Incognito, Jim Byrnes, The Mojo Stars, Billy Dixon's Soul, Train Express, …
Continue reading "Blues for Paws"
Learn More
23rd November 2019: Pet Photos with Santa
Pet Photos with Santa November through December 2019 Various locations With the howlidays around the corner, the BC SPCA is once again hosting Pet Photos with Santa! The whole family can come meet Santa and get your holiday photos for Christmas cards or keepsakes, and the funds will help support animals at your local BC …
Continue reading "Pet Photos with Santa"
Learn More